Russian Navy Research Ship Heads to Antarctica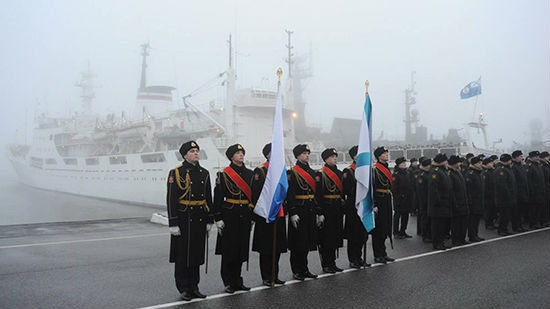 The Russian Navy oceanographic research ship Admiral Vladimirsky departed from Kronstadt on November 6 headed for the Antarctic.
In the course of the expedition, the first of its kind in 30 years, the Admiral Vladimirsky will cover over 30,000 nautical miles before returning to Kronstadt in April 2016.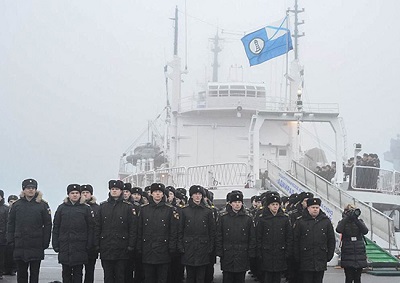 Before the start of the expedition, Commander-in-Chief Admiral Viktor Chirkov addressed to the crew members saying that they were to not only to demonstrate the Russian flag in Antarctica but also to do great work as they conducted hydrographical and meteorological research to improve international navigation maps.
Modern hydrographic techniques are expected to be able to improve existing map resolution 10-fold. A radio navigation study will also study how radio waves cross Antarctica.
Nearly 700 people will participate in the expedition which includes military hydrographers of the sixth Atlantic oceanographic expedition of the Baltic Fleet hydrographic service, representatives of the Russian State Hydrographic University, the Institute of the Arctic and the Antarctic as well as of the Hydrometeorological service of the Russian Armed Forces.
The vessel will sail along the Northern Sea Route and cross the Baltic, North and Barents seas, the Bering Sea, the northern part of the Pacific Ocean, then pass through Panama Canal to cross the Atlantic Ocean and passing the English Channel, the southern part of the North Sea, the Danish straits and finally will finish the circumnavigation in the Baltic Sea and return to her homeport Kronstadt.
The ship will visit the ports of Algeria, Suez (Egypt), Jeddah (Saudi Arabia), Victoria (the Seychelles), Madagascar, Maputo (Mozambik), Cape Town (South Africa), Malabo (Equatorial Guinea), Luanda (Angola) and Lisbon (Portugal).
Antarctic waters are divided into zones of responsibility of various countries, which are authorized by the international community to undertake hydrographic research for navigation security reasons. Russia worked in its sector, the Sea of Cosmonauts, the Sea of Lazarev and Commonwealth Sea, up until the 1980s.
The vessel was built in 1975 and named after Black Sea Fleet Commander Lev Vladimirsky.