Russian Drone Strike Shuts Down Ferry Crossing at Izmail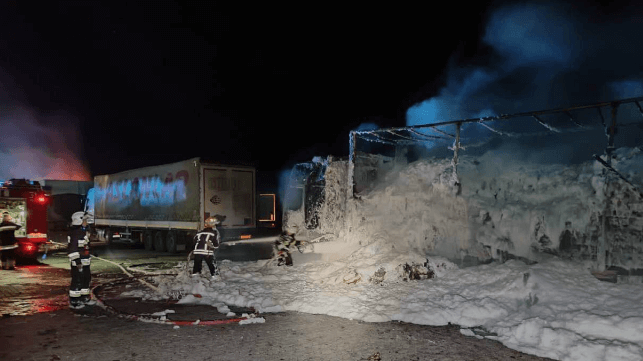 Overnight Tuesday, Russian forces conducted a drone strike on logistics facilities at Izmail, a critical grain port on the Danube River.
According to the Odesa Regional State Administration, Russia used waves of Iranian-built Shahed attack drones to hit the port complex near a ferry crossing on Tuesday night. The border checkpoint building and warehouses were damaged, as well as roughly 30 trucks. Six of the trucks caught fire and two drivers were injured.
Photos captured by truckers and bystanders on the Romanian side showed massive explosions from the strikes in Izmail.
The cross-river ferry to Isaccea, Romania was temporarily halted due to the risk of attack. Truck traffic was diverted to the Romanian port of Galati, via an overland route crossing through Moldova, according to the AP.
Footage of a Russian attack against the Orlivka area near the ports of Reni and Izmail - filmed from the Romanian side #Ukraine pic.twitter.com/UhPJlXImCg

— Michael A. Horowitz (@michaelh992) September 26, 2023
???????? #Ukraine: The Russian military carried out a drone attack on the port of Izmail (Odesa region) last night. The port is located near the Orlivka-Isaccea border crossing with #Romania, which was forced to close on account of the attack. pic.twitter.com/FCsDTxNhi5

— POPULAR FRONT (@PopularFront_) September 26, 2023
Russia has repeatedly targeted grain export infrastructure at Ukraine's seaports, including the terminals at Reni and Izmail on the Danube River. These ports are essential for the nation's farmers: When Russia shut off access to Ukraine's Black Sea coastline in July, the small Danube ports became one of their last remaining options for shipping.
Using simple but effective Shahed suicide drones, Russia has repeatedly struck silos, truck yards, warehouses and other civilian infrastructure at the Danube port complexes. The strikes have cut back grain throughput at the ports by half a million tonnes a month. (Ukraine typically exports 50 million tonnes of grain a year.)
On at least three occasions, errant drones have crossed over into Romanian airspace. Romania has declared a no-fly zone on its side of the Ukrainian border, extending about 20-30 km into Romanian territory, and has solicited NATO help in policing the area. The U.S. has dispatched four F-16 fighters to a Romanian airbase to help with this mission.