Russia May Sink Blockships to Protect Kerch Strait Bridge
The Russian military has been working hard to protect the strategic bridge across the Kerch Strait from Ukrainian attacks, with mixed results. A truck-bomb explosion damaged a highway span and the rail bridge in October 2022, and a drone-boat strike in July 2023 damaged all three parallel spans. To protect against further attacks by sea, Russia plans to sink a string of six ferries as blockships in the Kerch Strait, then link up barriers between them, according to Ukraine's military intelligence service (HUR).
Blockships - vessels intentionally sunk to prevent navigation on a narrow waterway - have a long history in naval warfare, dating back at least as early as the 11th century. Russia has used the strategy before, and much more recently. During the 2014 annexation of Crimea, the Russian Navy sank an aging cruiser, a tug and a dive support vessel across the entrance to Donuzlav Bay, making sure than Ukrainian Navy warships moored at the service's Southern Naval Base could not escape. The action took place at night and was not contested. Within a day, the Ukrainian vessels surrendered, handing the Russian Black Sea Fleet a corvette, three minesweepers, two landing ships and a variety of support vessels.
Russian forces have also used ships to block the Kerch Strait to navigation, though without any intentional sinkings. The central bridge span is narrow enough that it can be blocked by a single ship, and Russian border forces used such a blockade in 2018 to prevent Ukrainian shipments in and out of the Sea of Azov.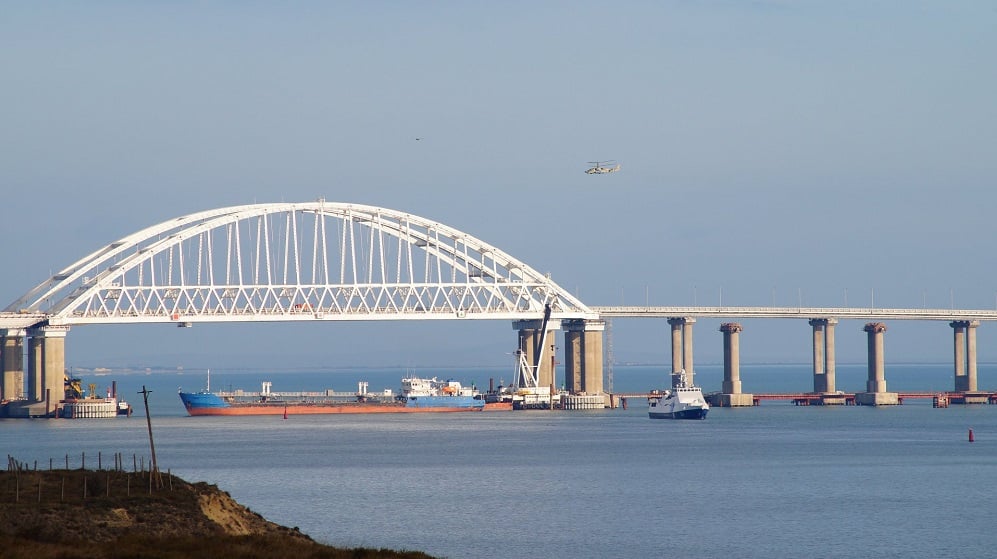 Russian blockade during the Kerch Strait Incident, 2018 (file image)
Ukrainian intelligence officials believe that something similar may be in the works at Kerch Strait, but for a different purpose. If floating barriers were connected between sunken vessels, it could create a blockship strategy uniquely tailored to drone boat attacks. Floating barriers have had some apparent success in defending against Ukrainian drone boat attacks at the ports of Sevastopol and Novorossiysk, though a small number of strikes may have gotten through, like the attack on the amphib Olenegorsky Gornyay in early August. (It is unclear whether that strike occurred inside or outside of a harbor protection barrier.)
Ukraine's HUR described the deployment of an anti-drone barrier at the Kerch Strait Bridge as a desperate measure.
"The Kremlin demanded anything to secure the facility, which is critically important for the military logistics of the Russian army of occupation," the spy agency said in a statement. "The simple measure of protection of the nineteen-kilometer bridge in the form of flooding of ferries testifies to the feverishness of the enemy's decisions."
If accurate, HUR's claim could be checked using high-resolution satellite imagery once the bridge protection installation is complete.