Royal Navy Tracks Russian Hypersonic-Missile Frigate in the North Sea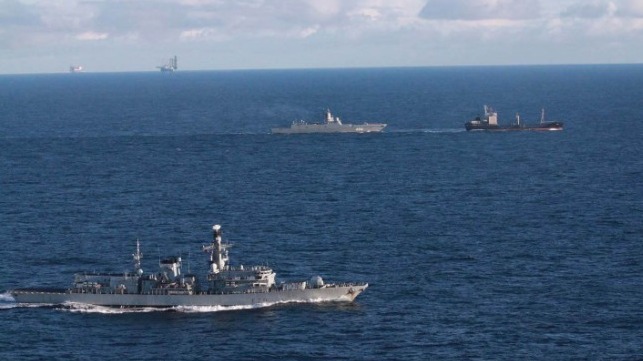 A Royal Navy frigate has been assigned to escort a specially-armed Russian frigate and an accompanying tanker through the waters of the North Sea, following their movements as they pass southbound near the United Kingdom.
The Russian frigate Admiral Gorshkov, accompanied by the 1982-built tanker Kama, has been dispatched from Severomorsk on a high-profile mission to the Atlantic and the Mediterranean. On January 4, Russian President Vladimir Putin virtually attended a videoconference celebrating her operational deployment, and he emphasized that she is carrying the Russian Navy's new hypersonic Zircon missile.
The Zircon (or Tsirkon) is a hypersonic anti-ship cruise missile with a claimed top speed of Mach 8-9. Gorshkov was involved in live-fire trials for the missile platform in 2020-21, and she received an operational missile loadout in December 2022, according to the Russian Ministry of Defense.
Admiral Gorshkov under way in the Norwegian Sea (Forsvaret)
The Norwegian Coast Guard vessel Bergen shadowed Gorshkov through the Norwegian Sea, then handed off the task to HMS Portland. In keeping with the Royal Navy's standard policy for Russian warships near UK waters, Portland and her embarked helicopter have tracked the Gorshkov steadily as she heads south.
"Escorting the Russian task group alongside forces from our NATO allies has demonstrated the UK's commitment to the alliance and to maintaining maritime security," said HMS Portland Commanding Officer Commander Ed Moss-Ward. "By maintaining a visible and persistent presence, the Royal Navy ensures compliance with maritime law and deters malign activity to protect our nation's interests."
Gorshkov is scheduled to join other Russian Navy assets in the Mediterranean, then proceed through the Suez Canal to the Indian Ocean. As Turkey has closed the Bosporus to warships, she will not be able to join the Black Sea Fleet for the ongoing invasion of Ukraine.
The 1999-built HMS Portland underwent an overhaul in 2021, receiving new radar and sonar systems and the newer Sea Ceptor surface-to-air missile system. For surface warfare, she carries the venerable Harpoon anti-ship missile, which will be phased out of Royal Navy service beginning next year.