Royal Navy Amphib HMS Ocean Decommissioned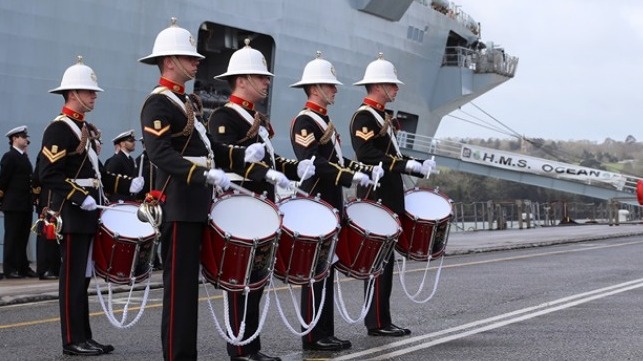 On Tuesday, the Royal Navy decommissioned its former flagship, the amphibious assault vessel HMS Ocean. Her Majesty the Queen and 500 members of the ship's crew and relatives attended a ceremony at Naval Base Devonport to wish the Ocean goodbye. After a parade and an aircraft flyby, the ceremony ended with the Royal Navy's white ensign hauled down from the ship's mainmast.
The 20-year-old HMS Ocean was sold to Brazil for $115 million in January, freeing up funds and manpower for the Royal Navy's two new carriers. The amphib had an eventful final year: she spent 11 of the last 16 months deployed on operations overseas, during which time she covered almost 50,000 miles. Much of her last tour was spent in a disaster relief role in the Caribbean, providing humanitarian assistance to victims of the 2017 hurricane season.
"This is a sad day for us all. This is our home when we are away. But while we will miss HMS Ocean we mustn't let emotion cloud the bright future for the Royal Navy or stand in the way of progress," said executive officer Commander Nick Wood. "The ship that replaces HMS Ocean, HMS Prince of Wales, is much larger and has greatly increased advanced capability."
HMS Prince of Wales and sister ship HMS Queen Elizabeth are jump-ramp carriers, and they lack the Ocean's ability to carry landing craft. The Royal Navy is trialling tactics for helicopter-borne amphibious assault in case it should lose its last true amphibs, the HMS Albion and HMS Bulwark, in an ongoing budget review.
Bulwark and Albion are not due to age out of service until the early 2030s, and the UK Parliament's Defence Select Committee warned last month that an early disposal would be "militarily illiterate" and an "irreparable act of folly." Without amphibs, the committee said, the UK's armed forces would not have "any prospect of . . . achieving a successful amphibious landing with a substantial force."