Royal Caribbean Returns to Storm-Damaged Ports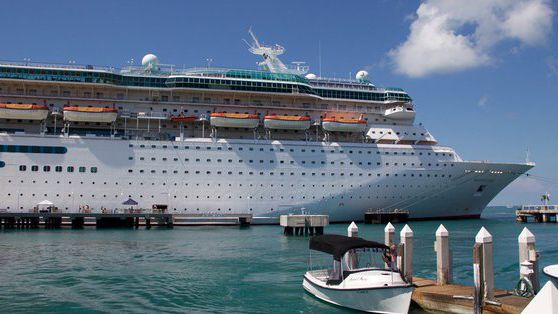 Royal Caribbean has announced the dates for its return to Puerto Rico, St. Thomas and St. Maarten as the islands make strides towards recovery from a disastrous hurricane season.
The line suspended its calls in St. Thomas and St. Maarten in September, but in what it hails as a "major milestone towards the revival of these Caribbean gems which were impacted by recent hurricanes," it has scheduled the resumption of normal itineraries to these islands. On November 10, Adventure of the Seas will be the first cruise ship to resume calls in St. Thomas. Beginning November 30, all scheduled calls in San Juan and St. Thomas will proceed as planned for ten vessels in the line's fleet, and on December 17, the Grandeur of the Seas will become the first cruise ship to resume commercial voyages to St. Maarten. On January 8, Jewel of the Seas will call in St. Croix on a voyage originating in San Juan.
Power and transportation will be available in San Juan by November 30, the line says, and it expects that St. Maarten's utilities will also be back in service by the time Grandeur of the Seas arrives. Royal Caribbean says that it has been working closely with local governments and businesses to lay the groundwork for these port calls, and it plans to offer on-shore experiences commensurate with its high standards.
"There need to be a wide variety of shore excursion elements available in order for us to deliver a guest-satisfying experience at a port," said Adam Goldstein, president and COO of Royal Caribbean Cruises, in a recent call with media. "As you see us return to the destinations that were affected by hurricanes, that's a statement on our part that we believe we have secured appropriate shore excursion capacity to deliver [that] experience."
While Royal Caribbean and its peers in the cruise industry emphasize that the vast majority of destinations in the region are open for business and ready to welcome new guests, some islands will take longer to recover. Dominica, which was decimated by the force of Hurricane Maria, will not receive any Royal Caribbean vessels until June 2018 at the earliest, and the cruise line says that it is working with the island's government on the most suitable date for a resumption of service.
FCCA names first port partner for Caribbean cruise campaign
On Thursday, the Florida-Caribbean Cruise Association (FCCA) announced that St. Maarten has become its first destination partner for a million-dollar publicity campaign, "The Caribbean Is Open," which is intended to raise awareness of the region's continued opportunities for tourism.

"We could not be any prouder to partner with St. Maarten," said Michele Paige, president, FCCA. "They have worked around the clock to reopen for tourism, and we look forward to showcasing those actions, along with the amazing products and friendly smiles awaiting visitors, to help inject a needed economic boost."

"This is an excellent initiative by the FCCA, and we are proud to be the first destination to partner with them for this campaign," said St. Maarten Minister of Tourism Mellissa Arrindell-Doncher. "On St. Maarten, we have worked tirelessly to reopen our shores to welcome visitors back . . . and this campaign will get our message out to the world that we are ready."