Royal Australian Navy Divers Assist Vanuatu in Cyclone Recovery
A team of Royal Australian Navy clearance divers is coming to the aid of neighboring Vanuatu to help clear navigational hazards and in the process helped the island nation recover one of its own vessels. The team is in the area conducting underwater surveys and clearance of major wharves to ensure maritime safety for all vessels using the area and will soon commence a survey of navigational markers at Port Vila Harbour, the country's main port.
The Vanuatu Fisheries Department lost one of its small boats, which sunk in the aftermath of Tropical Cyclones Judy and Kevin which had recently hit the islands. The divers there to assist in the island's recovery were informed that the FV Scabra, a timber boat built locally in Vanuatu, for the Fisheries Department was partially submerged near the police maritime wing's RVS Mala Base wharf in Port Vila Harbour.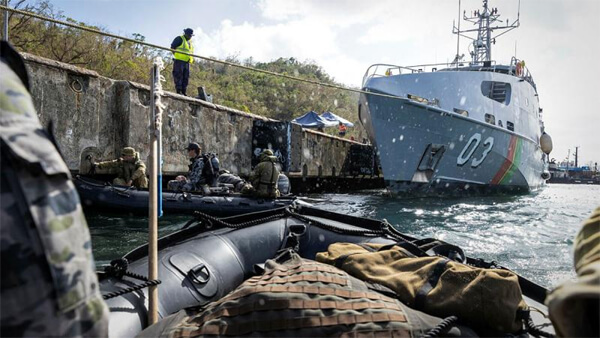 Dive team was sent to assist to restore navigational safety after the storms (ADF photos)
Australian Clearance Diving Team One Operations Officer Lieutenant Matt Bailey said it was important to remove the boat as it had presented a navigational hazard to other vessels.
"We were able to work with the VFD to lift the boat, pump the water out and then get it on a boat trailer so that it no longer posed a risk to other users around the wharf," Lieutenant Bailey said. "The divers put lift bags underneath the boat and then used a submersible pump to get the water out so that it could be moved onshore."
The VFD will look to repair the boat, which was first built in the fisheries' boat yard on the island of Espiritu Santo before sailing to Port Vila.
Eleven members of the Sydney-based diving team are embarked on HMAS Canberra to support Operation Vanuatu Assist. Through taskings from Vanuatu's National Disaster Management Office (NDMO), the divers have been undertaking damage inspections on vessels in the harbor.