After Spill, Port of Rotterdam Replaces Miles of Shoreline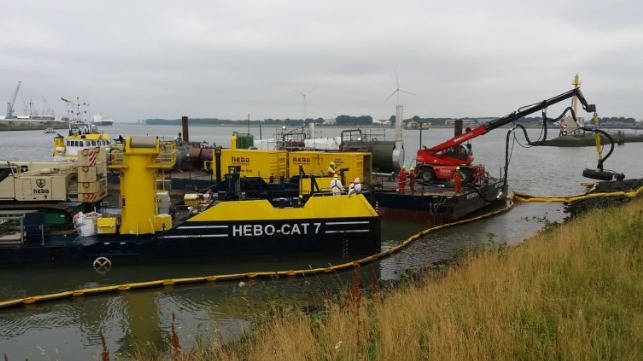 The Port of Rotterdam announced Thursday that it intends to replace nearly six miles of stone revetments contaminated by the bunker spill from the tanker Bow Jubail. Given the scope of this waterfront construction work, the whole cleanup effort will likely last until next year.
After the spill this June, the initial cleanup focused on sections of infrastructure where contamination restricted shipping. The effort has now turned to the broader area, the port said. Quay walls, jetties, buoys and pilings are decontaminated using high pressure power-washing with cleaning agents, but the loose stones of the port's revetments are soiled on the sides and bottoms, areas that are not easy to reach. In addition, the rubble layer underneath the stones is also contaminated. Power-washing with near-boiling water was successful in earlier cleanup operations at similar sites, but it has now been more than a month since the spill, and the HFO's volatile components have since evaporated. The heavy oil residue is so difficult to remove that it will be cheaper to simply replace the stone slopes, the port said.
The authority estimates that the damage resulting from the oil spill is about $90 million, and it intends to recover the cost from Odfjell, the owner of the Bow Jubail. "We will do everything in our power to recover these damages. Society here cannot be left to pay for this," Port Authority COO Ronald Paul said.
Harald Fotland, Odfjell's chief operations officer, said in a statement last month that the firm will pay for damages up to its legal liability. "We deeply regret the damage inflicted on innocent third parties, and will compensate for documented losses up to the maximum legal liability," he said. "The coverage of claims following the incident will be in full accordance with Dutch law and regulation, and governed by international conventions."
On June 23, the Bow Jubail struck a jetty at the Port of Rotterdam, rupturing her hull and releasing an estimated 220 tons of bunker fuel into the water. By the following day, oil was seen on the water from Hoek van Holland to the Spijkenisse bridges and the Beneluxtunnel, with the largest concentration in the Third Petroleum Harbor. Several harbor areas were temporarily closed while response vessels removed oil. The responders managed to remove about 150 tonnes of petroleum within three days, allowing the reopening of most areas.