Ropax Ferry Suffers Engine Room Fire in Bay of Biscay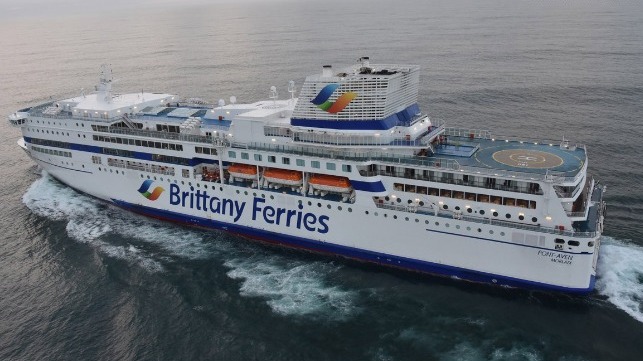 The ropax ferry Pont-Aven suffered an engine room fire on Monday morning, and French authorities dispatched a marine firefighting team by helicopter to meet her and help extinguish the blaze.
On Monday morning, the Brittany Ferries passenger vessel Pont-Aven was under way from Plymouth, England to Santander, Spain, with 766 passengers and 142 crewmembers on board. At 0400 hours, her bridge team called the rescue coordination center CROSS Etel to report that a fire had broken out in one of her two engine rooms.
CROSS Etel immediately activated a French Navy Cayman helicopter, a squad of marine firefighters and a team of evaluation and intervention experts to fly out to the ship. It also dispatched the rescue tug Abeille Bourbon, a permanently-stationed salvage and intervention vessel based in Brest.
At 0440 hours, the Pont-Aven notified CROSS Etel that her crew had successfully extinguished the fire and that the vessel was still able to maneuver. The helicopter-borne intervention team launched anyways as a precautionary measure, and it arrived on board at about 0730 hours.
Pont-Aven diverted to Brest instead of continuing her planned voyage to Santander, and the Abeille Bourbon provided her with an escort into port. She arrived safely at about 1500 hours, and her passengers began to disembark at about 1600 hours. No injuries were reported.
Passengers who were travelling with a vehicle had the choice to return to Plymouth and receive a full refund, or to drive the rest of the way to Spain and receive a contribution towards travel costs. Brittany Ferries said that it was making alternate arrangements to help passengers on foot to reach their destinations.
Three sailings between Plymouth and Santander have been canceled as a result of the casualty, and Brittany Ferries is evaluating the extent of the damage and the time needed for repairs to the Pont-Aven. An investigation into the cause of the fire continues.