Report: Russian Spy Ship Off Delaware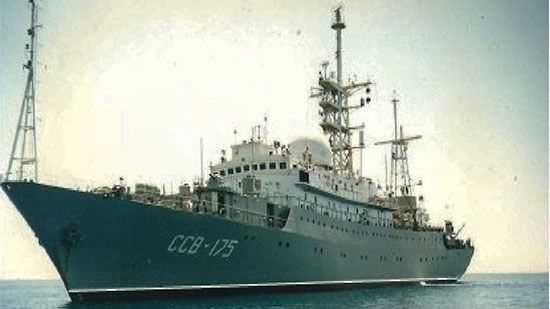 Fox News reports that a Russian spy ship was spotted off the East Coast of the U.S. on Tuesday morning.
The Russian ship Viktor Leonov was in international waters, 70 miles off the coast of Delaware and heading north at 10 knots, according to reports. The ship, which last sailed near the U.S. in April 2015, is apparently capable of intercepting communications and also measuring U.S. Navy sonar capabilities. It is also armed with surface-to-air missiles.
The ship made a port call in Cuba and has been working its way up the east coast.
"It's not a huge concern, but we are keeping our eyes on it," a U.S. official has reportedly said.
The news of the ship's presence coincides with reports that Russia has secretly deployed controversial cruise missiles and that Russian planes flew within 200 yards of the U.S. Navy destroyer USS Porter.
On Tuesday, a U.S. official told Fox News that Russia deployed ground-launched cruise missiles to two locations inside the country in December. The New York Times has previously reported that the Obama administration viewed the development of the missiles as a violation of a 1987 treaty between the U.S. and Russia that banned ground-launched intermediate-range missiles.
The deployment of the missiles is seen as a test for the Trump administration and comes as Trump is looking for a replacement for Michael Flynn, his national security adviser who resigned on Monday. Flynn resigned after it was revealed that he had misled Vice President Mike Pence and other U.S. officials over conversations with Moscow's ambassador to Washington.
A U.S. official told The Associated Press that Flynn was in frequent contact with Ambassador Sergey Kislyak on the day the Obama administration imposed sanctions on some Russian entities and people after U.S. intelligence reported that Russia had interfered with the U.S. elections. The Kremlin has confirmed that Flynn has been in contact with Kislyak but denied that they talked about lifting sanctions.