Report: Russia is Studying Europe's Subsea Cables With Covert Fleet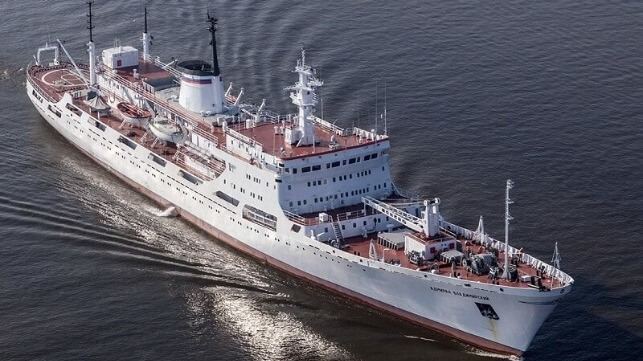 In a pattern echoing back to the Cold War, Russia has deployed a covert fleet of trawlers and research ships to identify vulnerabilities in the subsea cable network off the coasts of NATO nations, according to a new joint report by public broadcasters in Denmark, Norway, Finland and Sweden.
In a new in-depth documentary dubbed "The Shadow War," these four outlets detail a large-scale subsea surveillance operation targeting key communications and electrical transmission infrastructure in the Baltic, the North Sea and the Norwegian Sea. The BBC separately confirms that Russia has a similar program in place for surveilling British waters, as widely suspected.
The first episode follows the oceanographic research vessel Admiral Vladimirsky, a civilian government-owned ship with dual-purpose capabilities. With help from a former Royal Navy expert, the reporting team tracked the Vladimirsky on a tour of about 11 different wind farms in the Baltic and the North Sea, the majority in UK waters. When Danish reporters approached the Vladimirsky in a small launch, they were greeted not by a deck officer, but by an armed guard with body armor and a rifle - a greeting more appropriate to the coast of Somalia than the uneventful waters of the Skaggerak.
If the Vladimirsky's mission is as described, the subsea mapping of power transmission infrastructure near windfarms could be used in a potential conflict to disrupt the European electrical grid.
"This is a strategic capacity for Russia, which is considered very important and is controlled directly from Moscow," said Nils Andreas Stensønes, head of the Norwegian Intelligence Service, speaking to reporters with the project.
In a possible preview of these gray-zone tactics, communications cables to and from the Norwegian island of Svalbard were cut in April 2021 - and the interruption coincided with a Russian trawler crossing and recrossing the cable route. "Of course, Russia denies any responsibility for the cable disruption, but it matches up in time, location and capacity," said Karen-Anna Eggen, a fellow of the Norwegian Institute for Defence Studies, speaking to EuroNews.
Linkages between civilian ships and state business are far from unusual. The white hulls of the U.S. National Oceanographic and Atmospheric Administration are crewed by commissioned officers with security clearances, and American universities' T-AGOR academic research vessels are owned and maintained by the U.S. Navy. In a more formal example, China operates a fleet of "maritime militia" fishing vessels whose crewmembers are enrolled militia members with military training and armament. Though Beijing denies that they have any role beyond fishing, these well-maintained trawlers spend weeks or months near politically sensitive locations, without generating commercial revenue to support their operations.
Russia also has a long history of operating "civilian" covert ships. During the Cold War, Soviet trawlers with altered superstructures and large antennas were a common sight near U.S. Navy training exercises and naval operations. In the mid-1960s, they became so common that the U.S. came up with a catch-all descriptor and named them "Auxiliary General Intelligence" vessels (AGIs).