Report: FBI Allowed Suspected Terrorists to Hold TWIC Cards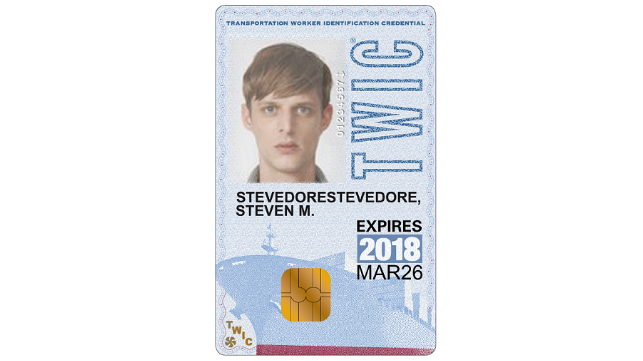 The U.S. Department of Justice's internal watchdog has faulted the Federal Bureau of Investigation for allowing individuals on the federal terrorist watch list to obtain Transportation Worker Identification Credential cards, better known as TWIC cards. TWIC is the ID card required to gain unescorted access to secure areas in America's seaports.
The Office of the Inspector General found that the Transportation Security Administration (TSA) had 214 interactions with terrorist watchlisted individuals applying for TWICs between 2006-2017. Some undisclosed number of the watchlisted individuals - including known or suspected terrorists (KSTs) and individuals on the No Fly List - were issued TWIC cards. The identities of the known or suspected terrorists with TWICs were redacted, but there were enough of them that their names merited a table of about one-half page in length. OIG noted that some of the information it reviewed about the individuals on this table "was particularly concerning."
In part, these suspected terrorists gained TWICs because the FBI agents who worked with TSA on reviews did not know what the TWIC does, according to the report. "FBI agents we spoke to who provided input on these individuals did not adequately understand the TWIC program," the OIG wrote. "Some agents were unable to explain what a TWIC was and what access it granted, and others had not fully considered the impact of allowing an investigative subject continued access to secure maritime areas."
The agents involved in the review process were also siloed from the counterterrorism-focused FBI Maritime Security Program (not related to the ship subsidy program of the same name). They did not relay the fact that watchlisted individuals had applied for TWIC cards, which could be useful intelligence for the agents tasked with preventing terrorist attacks.
OIG also highlighted significant loopholes in the TWIC system itself. Outside of major seaports, the majority of maritime facilities do not use the TWIC's encoded biometric data system - the feature than makes TWIC unique - but simply use the card as a required piece of photo identification. To use biometric data to verify identity, terminals and a wide variety of other installations would have to buy and install fingerprint readers. This requirement has been delayed (and criticized) for years, and last August, Congress and the White House enacted a law ordering the U.S. Coast Guard not to implement it.