Reefer Ship Inspection at Delaware Port Leads to MARPOL Charges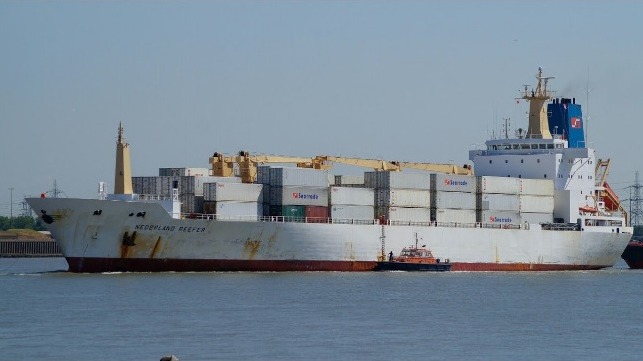 On Tuesday, a federal grand jury indicted the owner and operator of a 14,000 dwt reefer vessel after inspectors at the Port of Delaware Bay discovered falsified pollution control records and evidence of oily water discharge. The companies also face a charge of failure to report a hazardous condition to the Coast Guard.
Federal prosectors allege that on February 21, the reefer ship Nederland Reefer entered the Port of Delaware Bay and presented a false and misleading Oil Record Book to U.S. Coast Guard inspectors. According to the indictment, the Oil Record Book did not accurately record transfers and discharges of oily wastewater.
Ship manager Chartworld Shipping Corporation, shipowner Nederland Shipping Corporation and the vessel's chief engineer were charged with failing to maintain an accurate oil record book, falsification of records, obstruction of justice and witness tampering. The indictment alleges that they destroyed evidence of illegal discharges and directed the ship's crew to withhold evidence from the Coast Guard.
In addition, the two companies have been charged with failing to inform the Coast Guard of a hazardous condition. Before the Nederland Reefer arrived in Delaware, she allegedly suffered a hull breach resulting in tank flooding, according to the indictment. The marine casualty was allegedly not reported to U.S. authorities.
According to Equasis, both Chartworld Shipping and Nederland Shipping share a working address in Athens.
MARPOL oil pollution cases are frequently prosecuted in the United States. According to a tally compiled by the Wall Street Journal, the U.S. Justice Department has convicted 140 shipping firms of MARPOL violations and collected $470 million in fines since enforcement began in the 1990s. The Standard Club warns that shipowners found guilty of pollution charges in American courts should not expect insurers to reimburse them for related liabilities, except in very exceptional circumstances.
The Nederland Reefer is a 1991-built containerized reefer vessel registered in the Bahamas. As of Thursday she was moored at the Port of Antwerp, Belgium.