Qatar Replaces Novatek in Lebanon's Qana Gas Field Project
Groundbreaking development could be Lebanon's first commercial offshore gas well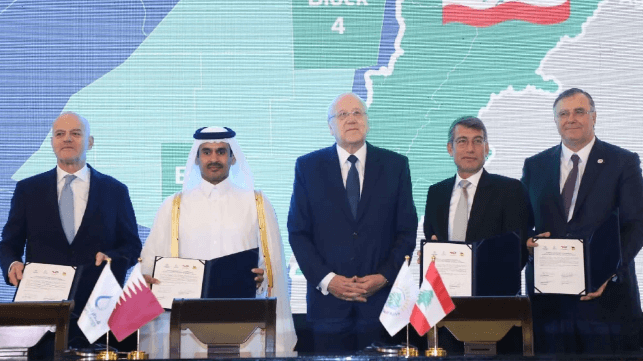 State-owned Qatar Energy, one of the largest natural gas producers in the world, has agreed to join the French/Italian partnership behind the development of Lebanon's first offshore energy projects. Qatar replaces Russian natural gas company Novatek, which has withdrawn under sanctions related to the Russian war in Ukraine.
Qatar Energy is picking up Novatek's 20 percent stake in the project, plus five percent each from TotalEnergies and Eni, giving it a total share of 30 percent. TotalEnergies and Eni retain 35 percent each, and TotalEnergies will be the operator.
The partners will be working to develop the promising Qana gas field in Lebanon's Block No. 9, which is located on the newly-defined southern maritime boundary.
"The recent delineation of Lebanon's maritime border with Israel has created a new momentum for the exploration of its hydrocarbon potential. Along with our partners, we are committed to drilling as soon as possible in 2023 an exploration well in Block 9, and our teams are mobilized to conduct these operations", said Patrick Pouyanné, Chairman and CEO of TotalEnergies.
After years of debate, the Israel-Lebanon maritime boundary was finally agreed by the administrations of previous Israeli Prime Minister Yair Lapid and previous Lebanese President Michel Aoun in October 2022.
Under the deal, Israel kept control of the newly-commissioned Karish gas field. The adjacent Qana gas field belongs to Lebanon, though Israel gets to keep a small equity stake in its development and will receive dividend payments from TotalEnergies.
The deal to deconflict the boundary gave both sides the freedom to proceed with energy development without substantial risk of a conflict. (Both nations have formally been at war since 1948.) However, current Israeli prime minister Benjamin Netanyahu has called the maritime boundary deal "weird and strange," and during his most recent election campaign he threatened to "neutralize" it.