Prelude FLNG Receives Cool-Down Cargo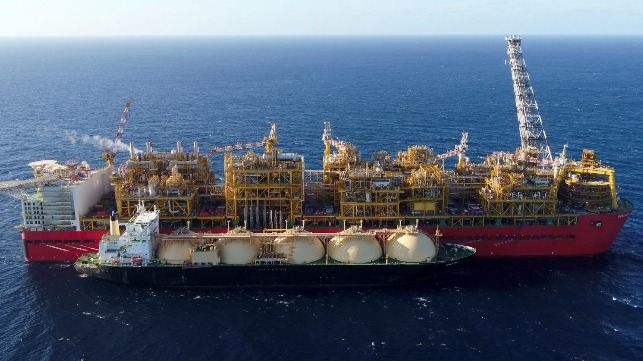 Shell's giant floating liquefied natural gas plant (FLNG), the Prelude, moved closer to production last week when she received a cool-down cargo from the LNG carrier Gallina.
The 70,000 dwt Gallina transferred a load of LNG to the Prelude on Wednesday and Thursday as the plant prepares for commissioning. It was the first time that Prelude has had an LNG carrier alongside to test the plant's sophisticated loading arms.
Prelude is now testing its systems in preparation for first gas from Shell's Prelude field, which holds an estimated three trillion cubic feet of natural gas (in combination with the adjacent Concerto field). Royal Dutch Shell hopes to begin generating revenue from the multi-billion-dollar project sometime this year.
Prelude has a nameplate capacity of 3.6 million tonnes per annum (mtpa), approximately the same as a single export-size liquefaction train built on shore. Her construction cost is believed to be in the range of $10-12 billion (and perhaps more).
Analysts say that Prelude will be an important test of the economic viability of the FLNG concept. Onshore plants have room to spread out and to grow, but the same equipment must be packed into a tight space if installed on a ship, adding complexity and raising cost. Shell has chosen not to exercise its options for more FLNGs like Prelude.
Check out the latest drone footage from Prelude. All 16 mooring lines of the #FLNG facility are now connected! https://t.co/NS8EXUvVNn pic.twitter.com/TpudrCXVDP

— Shell Australia (@Shell_Australia) August 18, 2017
Competition for reserves
Shell and its competitor Inpex are both about to start drawing gas from the same basin, and are in a race to begin commercial operations. It is uncertain whether their fields are connected, and it is possible that whichever firm starts first will draw down more of the finite quantity of gas in a combined reservoir. Inpex is expected to ship its first commercial cargoes of gas condensate by the end of the third quarter, with Shell following several months after.
Inpex has taken a different approach to field development. It built a semi-submersible production platform to house gas purification and processing equipment, which will remove water and condensate before pumping the gas through an export pipeline to an 8.9 mtpa liquefaction plant on shore. The FPSO Ichthys Venturer is moored next to the production platform, and it will process the condensate from the gas stream and periodically offload it onto tankers.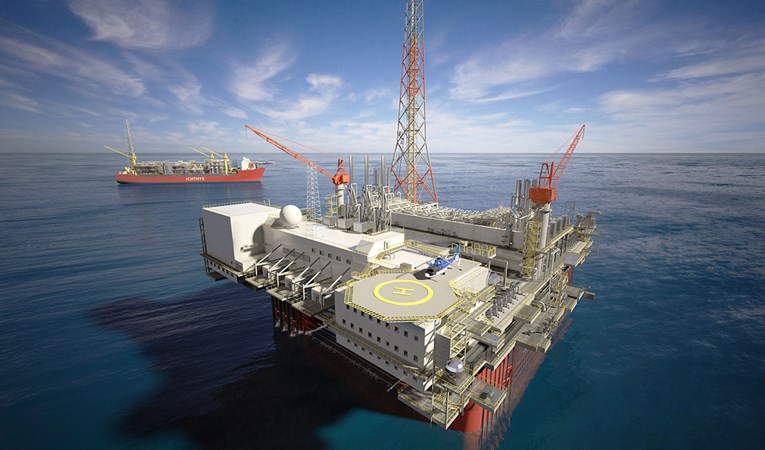 The semi-sub production facility and the FPSO Ichthys Explorer (Inpex)