Port of South Louisiana and Port NOLA to Help Ukraine Rebuild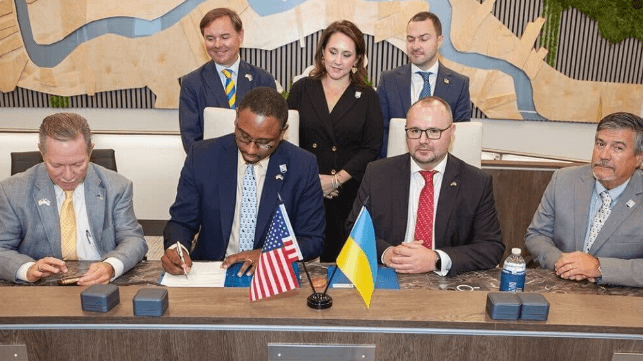 Ukraine's largest seaports have a long road ahead in rebuilding after a series of Russian missile and drone attacks. The terminals around Odesa and along the northern branch of the Danube delta are critical for Ukrainian grain exports, but have been hit repeatedly over the span of the past month. As Ukraine works to rebuild its marine infrastructure, it will be able to draw on advice from the Port of South Louisiana and the Port of New Orleans, according to the Ukrainian Sea Ports Authority.
On Tuesday, the authority announced that Ukraine's general consul in Houston, Vitalii Tarasiuk, signed a joint cooperation agreement with Port of South Louisiana CEO Paul Matthews. The port is the biggest hub for agricultural exports in the United States, handling grain from all over the U.S. Midwest. The memorandum lays out plans to cooperate on technical planning, development, construction, and administration as Ukraine works to rebuild its seaports and silos.
"The United States and Ukraine, being two of the world's leading grain exporters, are proud of their role in providing the world food. This memorandum strengthens the support of the Ukrainian people in defending their freedom and creates an alliance with our Ukrainian partners that focuses on our shared mission of serving clients worldwide and creating economic prosperity for our communities," said Matthews in a statement.
Tarasiuk also visited the Port of New Orleans, where he met with Port NOLA President & CEO Brandy Christian to discuss a cooperative understanding with the Port of Odesa. "This international collaboration marks the beginning of an exchange of expertise and best practices that will mutually benefit our vital maritime infrastructure," said Port of New Orleans in a statement.
Odesa is under de facto blockade by Russian forces, but Ukraine is working to restart commerce to and from its main Black Sea grain ports without Russia's approval. The stakes are high: Ukrainian agricultural exports are down by a third without access to Black Sea shipping, putting strain on Ukrainian farmers and on Ukraine's neighbors. Using Ukraine's new unilateral shipping lane, two ships have departed Odesa and successfully transited to Istanbul without Russian interference; the first vessel hugged the Bulgarian and Romanian coastlines, while the second - the bulker Primus - headed directly across the Black Sea to the northern entrance of the Bosporus. Recent reporting by the New York Times suggests that drifting sea mines are a consideration for shipping nearer to shore.
Because of Russian threats to Ukrainian shipping, as well as repeated Russian attacks on port infrastructure, insurance is a key hurdle for this route. With help from Lloyds and Marsh & McLennan, Ukraine's economy ministry is using the country's Road Fund to set up a reinsurance pool, taking on the role of reinsurers who have departed the nation's market because of excessive risk. Each dollar of state reinsurance cover translates into five dollars in marine insurance coverage, according to ministry adviser Oleksandr Hryban.