Port of Seattle to Redevelop Container Terminal for Cruise Uses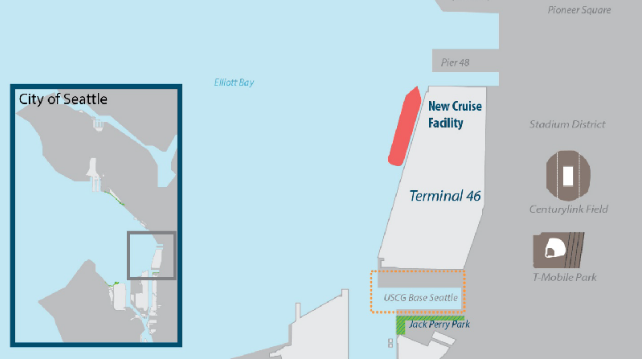 The Northwest Seaport Alliance of Seattle and Tacoma has authorized the construction of a cruise terminal at the Port of Seattle's Terminal 46. The agreement is part of a broader realignment of terminal infrastructure that will allow Seattle and Tacoma to boost container volumes and attract new business.
Seattle is already the busiest cruise port on the U.S. West Coast, and in 2017 it broke the million-passenger mark. It expects growth to continue, and to make room, the port is seeking a private partner to redevelop Terminal 46 for cruise ships.
Image courtesy Port of Seattle
T-46 is currently a container facility operated by Total Terminals International (TTI). Under the terms of the plan, the current Terminal 46 lease with TTI will terminate early, allowing its containerized cargo to be shifted to Seattle's Terminal 18. This will give the Port of Seattle enough room for a cruise berth on a 30-acre portion of T-46.
The T-46 site is just south of downtown Seattle, and it has about 3,100 feet of berthing, 50 feet of depth and about 86 acres of space. The northern portion of the berth will be available for cruise uses, including the construction of a 5,000-plus passenger terminal. The south end will be used for breakbulk cargo.
Port of Seattle expects to compile a shortlist of the most promising private-sector partners for the new cruise facility by May, and it hopes to complete the selection process by the fall.
Upgraded container facilities
Total Terminals will be giving up its lease at Terminal 46 to make way for the cruise berth, but it will gain new space at Terminal 18 and at the new Terminal 5. Both facilities will be operated by a joint venture between TTI's parent company, Terminal Investment Limited (TIL), and competitor SSA Terminals.
At the same meeting that it approved the cruise terminal site, NWSA's board also agreed to $315 million in funding for the redevelopment of Terminal 5, bringing the total public investment in the site to $340 million. The new Terminal 5 will be able to handle ultra-large container vessels, and the NWSA sees this capability as an important part of the region's future. The alliance predicts that the Terminal 5 investment will result in 6,600 new direct jobs and more than $2 billion in business activity.
"The modernization of Terminal 5 represents a transformative investment in our region to support our state's economy," said Stephanie Bowman, Port of Seattle commission president and co-chair of the NWSA. "These actions will ensure robust and competitive marine cargo and maritime industrial activities in our harbor for the next 30 years, sustaining and creating family-wage jobs and economic opportunity for the region."