Port of Antwerp Sets Up Radar and Camera-Driven Digital Twin for VTS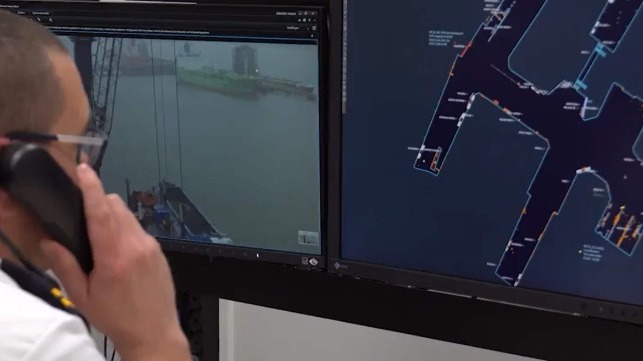 Europe's second busiest port, Antwerp-Bruges, has installed an extensive digital radar and camera network that it believes will take traffic management to the next level.
Barely two months after deploying autonomous drones to improve monitoring and security across the sprawling complex, Antwerp-Bruges has now put its entire facility under a digital nervous system with the comprehensive radar and camera network.
The vast Antwerp port area covers more than 120 square kilometers with 11,000 hectares of waterways and quays. With more than 300,000 shipping movements per year, the port believes it cannot afford to have any blind spots.
The installation of the advanced radar and camera system now enables navigation staff to scan the entire port area, making it the backbone of safe and efficient shipping traffic. With the installation of 460 cameras and 22 radars that are directly connected to the Antwerp Coordination Centre, the port can provide real-time VTS services.
The harbor master's office will also have a comprehensive view of the port, allowing close monitoring of shipping and incidents. The network, which is a first in the port world, is also expected to enhance efficiency and safety in the management of waterways and moorings.
Antwerp believes that it now has one of the most advanced, high-performance traffic management systems of any port in the world. Together with the deployment of drones that provide 'live feed' of port activities and sensors, the port has a digital copy of the entire port area with a real-time picture of what is happening at any given point.
The smart cameras are equipped with specially designed artificial intelligence that allows them to recognize ships. In combination with detailed radar data, the real-time visual data will be used to evolve towards predictive and steering behavior.
"This network is a great asset to our port in terms of safety and operational efficiency. The new sensors form the technological backbone of shipping guidance," said Rob Smeets, port of Antwerp-Bruges Chief Operations Officer.
Antwerp-Bruges was created through the merger of the ports of Antwerp and Zeebrugge last year, and it is Europe's second busiest port. The port provides, directly and indirectly, a total of around 164,000 jobs and generates an added value of $23 billion.
Antwerp is also the primary cocaine import hub for Europe, thanks to its busy container trade with South America. Belgian authorities seized a massive 110 tonnes of the drug at the seaport last year. To help address the problem, the Belgian government is standing up a new Port Security Corps police force with 70 officers assigned to counternarcotics duty.