Port Canaveral Plans for Three New Cruise Terminals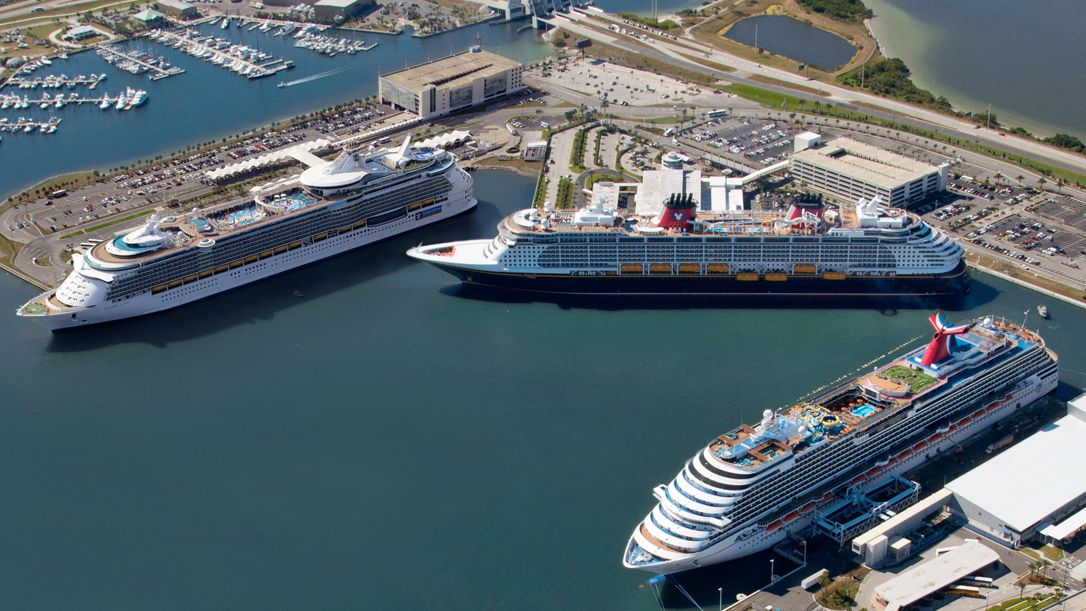 Port Canaveral, Florida is one of the largest cruise ports in the world, and it's making plans to become much bigger. Its new master plan calls for three new terminals costing up to $150 million each, with the first coming online in 2020, the second in 2022-2023, and the third between 2027-2030.
The first two terminals would be located on the port's eastern side, with the third built near the existing Cruise Terminal 5 on the west side. The plan would also upgrade two existing cruise terminals. In a public hearing, planning consultant Luis Ajamil said that the plan could even include a fourth terminal after 2040.
The plan also features upgrades to the port's shopping/commercial district, The Cove, including a new 500-person conference area, five new restaraunt spaces and a new centralized transportation hub for ground transport.
It would also create a designated "spaceport" area for aerospace operators like SpaceX, which uses the port for the recovery of rocket boosters launched from nearby Cape Canaveral. "This will be the first port in the world that will have a spaceport component," said Ajamil. SpaceX and competitor Blue Origin would benefit from two new docking areas and access to additional land.
On the cargo side, the plan leaves out a controversial proposal for a rail route over the Banana River, which would have added more connectivity for the port's cargo area. It also leaves out any possibility of a new tax levy – an important consideration for a public port. The $2.5 billion total cost will be paid for out of revenue. Port Canaveral CEO Capt. John Murray made clear that a "tax is not an option."
Port Canaveral is very likely to add LNG bunkering to this project list in the near future. In a recent speech to the International Propeller Club, Capt. Murray said that he believes Port Canaveral needs to be ready to bunker ships with LNG as early as 2020 to 2021, given the fact that cruise lines currently have 16 new cruise ships under construction that will run on LNG for fuel.