Polaris VLOC Aground and Listing Off Brazil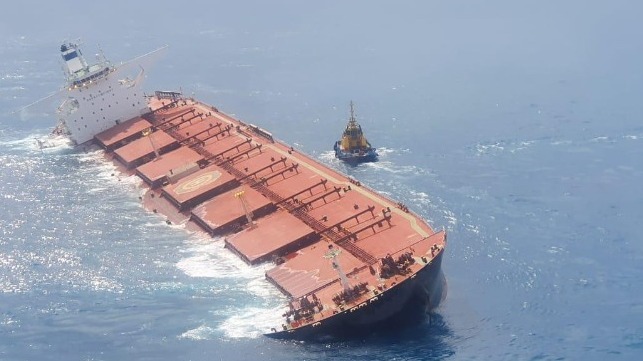 Mining giant Vale has confirmed that the very large ore carrier (VLOC) Stellar Banner suffered damage after departing a loading terminal in Maranhão, Brazil. The vessel was intentionally grounded, and images taken Tuesday show her listing heavily to starboard, with water overtopping the gunwale.
On Monday night, Stellar Banner departed the Vale-operated Ponta da Madeira Maritime Terminal in Brazil's northern Maranhão state. She suffered unspecified damage to her bow after departure, outside the port access channel, Vale said in a statement. Her 20 crewmembers were evacuated safely, Vale said, and "the vessel's captain [grounded] the vessel about 100 kilometers off the coast of São Luís" as a precautionary measure.
Vale is contributing its tugboat assets for the response and is working with maritime authorities. The ore terminal continues its normal operations.
The 2016-built VLOC Stellar Banner is operated by Polaris Shipping, the operator of the former Stellar Daisy. AIS data indicates that she was bound for Qingdao, China.
The Polaris-owned VLOC Stellar Daisy sank in the South Atlantic in 2017 after taking on a load of ore at a different Vale terminal. Only two Philippine sailors were rescued out of the 24 people aboard. The Republic of the Marshall Islands concluded that the likely cause of the vessel's foundering was a rapid list to port following a catastrophic structural failure of the hull.
Polaris Shipping and its CEO, Kim Wan-Jung, were charged with violations of South Korea's Ship Safety Law, along with five other employees. The Korean prosecutors called for four years of imprisonment for the CEO for not reporting the ship's known defects. A judgment on February 18 found Kim guilty of not reporting vessel defects, and he was sentenced to six month imprisonment with one year's probation. Polaris Shipping received a penalty fine of about $12,000.