Poland and Russia Spar Over Alleged Sub Collision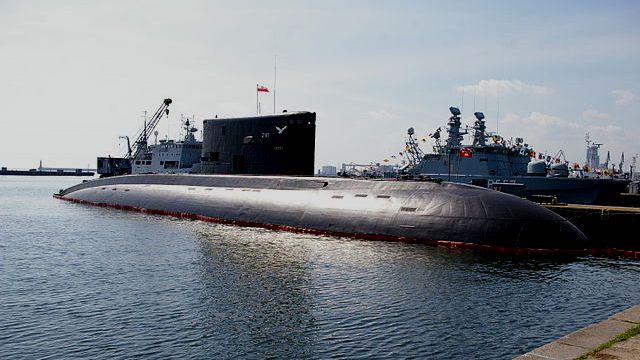 Polish and Russian sources are engaged in a dispute over whether two submarines were involved in a collision in the Baltic Sea.
Russia's REN TV reports that earlier this week, the Russian submarine Krasnodar collided with the Polish submarine Orzel. Interfax suggested that the Krasnodar was not significantly damaged and returned to port in St. Petersburg.
But the Polish defense ministry denied the reports, asserting that the Ozhel has not left the Gulf of Gdansk in recent days.
"There was no collision between Polish and Russian ships. This is Russian propaganda looking for problems where there are none," said Bart?omiej Misiewicz, a ministry spokesman.
The Orzel is a diesel-electric Kilo-class submarine of Soviet origin, dating to 1986. It carries up to 18 torpedoes or 24 mines.
The B-265 Krasnodar is an upgraded Kilo-class sub (Varshavyanka-class) launched last year, the third in a series of six vessels. Russia has claimed that the vessels are the "quietest submarines in the world." The Krasnodar is armed with torpedoes and surface-to-air missiles; following testing and exercises, she will enter service with the Black Sea Fleet out of Novorossiysk.
The reports come at a time of heightened tensions between NATO members and Moscow. Russian fighters flew unusually close to the American warship USS Donald Cook in the Baltic on April 11, drawing protests from the U.S. Additionally, NATO is due to hold a summit in Warsaw in July, and Poland has been calling for a larger military presence in Central Europe to counter Russia's assertive foreign policy.
"We all cannot escape difficult geopolitical reality: we are witnessing a dramatic deterioration of the security situation in Europe's eastern and southern neighbourhoods, including directly on Poland's doorstep," wrote Minister Witold Waszczykowski in a recent editorial for Foreign Policy. "So we are pressing our allies to take a more dynamic approach to NATO, one that recognizes the menace posed by a restless and intrusive leadership in Moscow . . . Only a substantial investment in infrastructure, the deployment of military units on the ground – reinforced by precise contingency plans in the event of attack – can give Poland and its neighbours the security we need."