Pictures: Resolve Marine Responds to Harvey, Irma and Maria
Resolve Marine Group continues its salvage and remediation efforts in the aftermath of hurricanes Harvey, Irma and Maria. Over 13 teams have been mobilized, joining international efforts to clear ports, restore commerce and salvage hundreds of vessels from the Leeward Islands to Texas.
The company is running full spectrum emergency responses and vessel recoveries throughout Guadeloupe, the British Virgin Islands, the U.S. Virgin Islands, Puerto Rico and Florida. Resolve has assembled the largest commercial fleet ever to respond to a Caribbean disaster. This fleet includes Resolve's largest crane barge, the RMG 302, offering and utilizing the largest heavy lift vessel operating in the Caribbean, the Conquest MB1 that was utilized for heavy lift on the Costa Concordia, their 66-meter command center and accommodation vessel, Lana Rose, and the 78bhp tug Resolve Commander.
The Maritime Executive spoke to some of the managers involved about the scope of the company's efforts:
"What I have realized as a result of our efforts is the importance of the chain reaction that needs to happen. Most people don't say it out loud," says Daniel Dolson, Global Operations and Personnel Manager for Resolve. "There's a chain reaction of events that need to happen for a place to get back to normal. It starts with getting transport running again so that people can get to work, and getting the electricity back on. So, as well as loading salvage gear, Resolve loads food, water and generators – that's what's needed first, everything else follows."
There is also a spectrum of work and people involved, and Dolson says that the company benefits from its strong background in both large and small salvage operations. "You're not going to see a Costa Concordia wreck every day. But we keep in mind that while shipowners view their vessels as valuable, so do small boat owners. It's just as important to them regardless of the commercial value of the vessel."
Hurricane Harvey
Resolve was contracted to lift and refloat a 5,000 HP ASD tug, which sunk during Hurricane Harvey while holding a drill ship against the dock during the height of the hurricane. The tug was crushed between the drill ship and a drilling rig; the hull was breached causing the tug to sink. To refloat her, Resolve mobilized a specialized salvage team, their crane barge the RMG 400, out of the Bahamas, and various salvage and pollution response assets.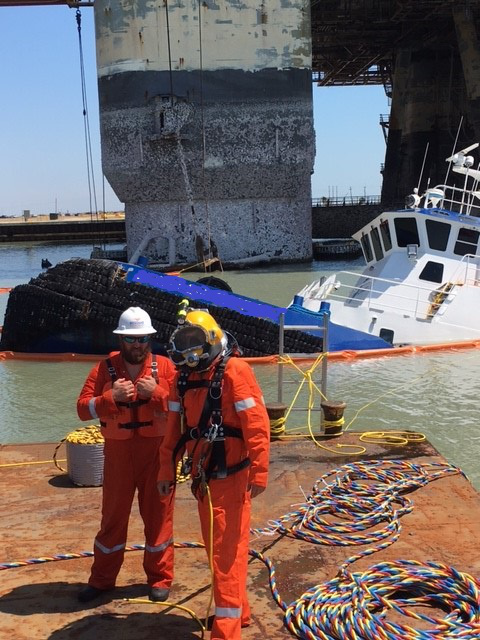 Resolve Divers, Photo Credit: Troy Caras, Salvage Master
Resolve lightered close to 80,000 gallons of fuel before raising the vessel with no damage to the environment. Once the vessel was raised, Resolve's welders installed a box patch over the hull breach and lowered the vessel back into place. The vessel was then towed back to the owner's dock in Texas.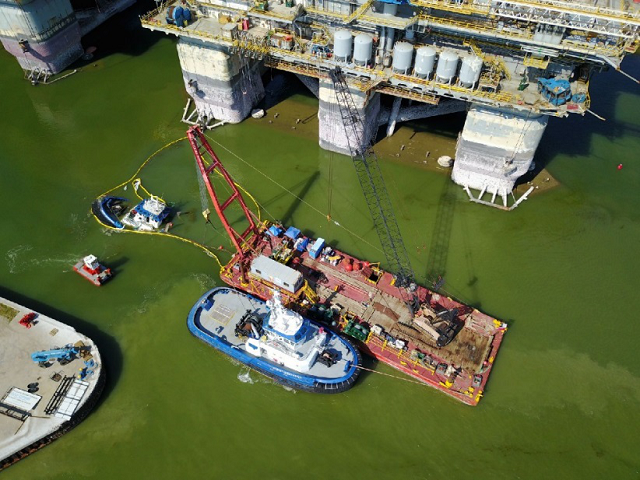 Photo Credit: Nolan Conway Naval Architect RMG

In another instance, the 180-foot offshore vessel Gulf Justice was forced aground during the storm. The vessel was driven aground in water depths between 2.5 feet and five feet and was pushed into sand several feet deep. Further the vessel took on a seven degree list to the port side. The vessel grounded near the inlet channel to Port Mansfield, Texas, an inlet heavily populated with recreational craft.
Resolve was awarded the contract to respond, and the company mobilized a shallow draft tug, supporting deck barge, salvage and diving team and portable fly away equipment to the location. Resolve's engineering team formulated computerized stability models for the vessel and developed a plan to free her from the inlet.
Lightering operations commenced using portable pumping systems and the vessel's own fuel manifold. Resolve successfully removed all bulk fuel oils during one safe weather day with no damage to the environment. Then the salvage team ballasted the vessel, and two tugs were used to free her during the next safe weather window. Resolve successfully patched all points of water ingress and stabilized the vessel for an open water tow and returned her to Larose, Louisiana.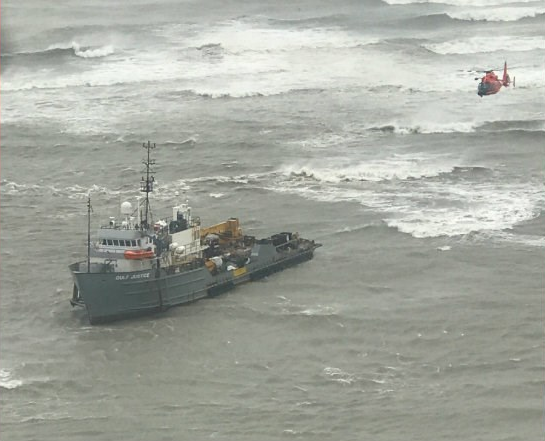 USCG rescuing crew. DSV beached inside surf zone. Photo Credit: USCG
"We had a lot of sand we had to get out, but there were a lot of storms that made it unsafe to work and pushed more sand in," said Todd Duke, Regional Manager for Resolve. "We got the sand off, then had to come back in a couple of days, only to find the storm had pushed the same amount of sand right back in."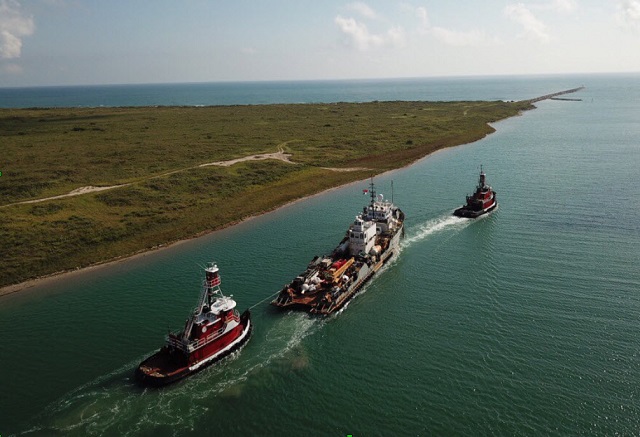 DSV being towed Photo Credit: Nolan Conway, Naval Architect RMG
In Florida, Resolve responded in Tampa, Fort Myers, Jacksonville, Miami, and the Florida Keys. In the sensitive mangrove habitats there, Duke saw a similar pollution threat to that of Hurricane Katrina and the Deepwater Horizon oil spill, both of which he and Resolve had been involved with. "Even though it was smaller boats this time, its the cumulative effect that is important. Every boat has petroleum product, engine oil or battery acid, as well as plastics and other materials, that could affect the marine environment."
"We always say our job as salvors is to keep the oil in the ship, but a lot of times when you are dealing with hurricane disasters, weather limits access, so it's going to be an oil spill response operation as well," says Duke.
Hurricanes Irma and Maria
A commercial dry dock dragged its moorings during Hurricane Irma and sank alongside the cruise ship pier in St. Thomas, blocking the dock access for cruise ships. Resolve mobilized the 1,400 ton derrick barge, Conquest MB1, from Louisiana to the site along with a specialized salvage team, heavy rigging and salvage equipment. Initially, Hurricane Maria forced the salvage crew out of the area before they could complete the job, but the drydock was successfully raised and returned to the local shipyard. The harbor clearance project enabled the resumption of cruise ship traffic to the port and the restart of the vital tourist industry to the island.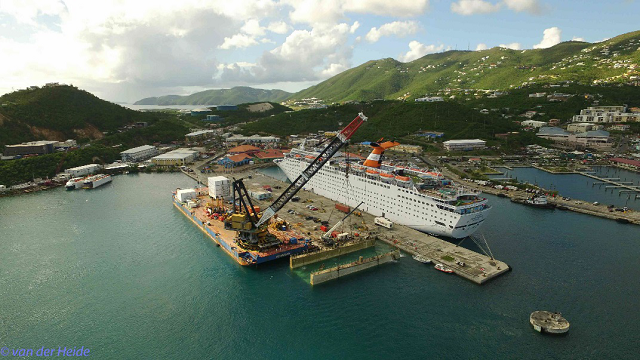 Dry Dock refloated. Photo Credit: Jason Auerbach
Resolve also salvaged multiple commercial ferries and supply boats in St. John, St. Thomas, Guadelopue and the British Virgin Islands. These vessels were patched and refloated for subsequent repair and return to service.
Photo Credit: Tim Hartwick, Salvage Project Manager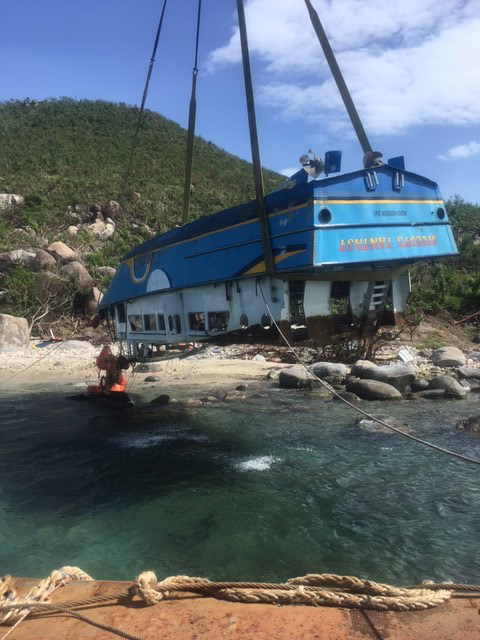 Photo Credit: Nolan Conway, Naval Architect RMG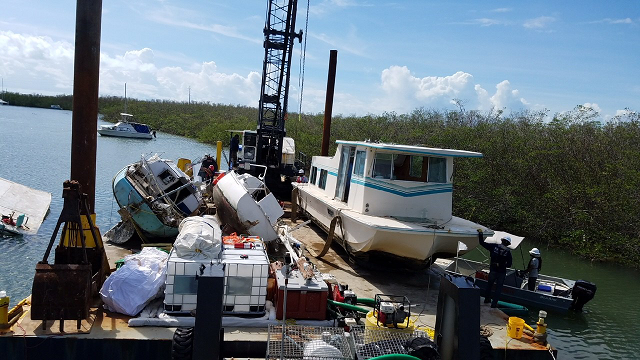 Photo Credit: Samuel Adams, Project Manager
"There is no clearer example of the importance of the salvage industry in supporting our critical national priorities in time of crisis," says Client Service Manager Lindsay Malen - Habib. "Salvage teams and project managers stay acute. There's times when they get no sleep, everything in day-to-day life gets pushed aside. All the focus is on getting the vessels refloated, getting everybody safely in and out. It takes a very special type of person to be able to handle those jobs under pressure and in a safe environment, keeping their entire team safe and protecting the environment.
Malen-Habib says, despite the company's on-going efforts in the region, the company is still ready to respond where needed. "Resolve is constantly demobilizing and mobilizing equipment and is available for additional responses with their strategically place heavy lift vessels, crane barges, salvage tugs, depots, warehouses and personnel."