Photos: Operation to Raise Norwegian Frigate Underway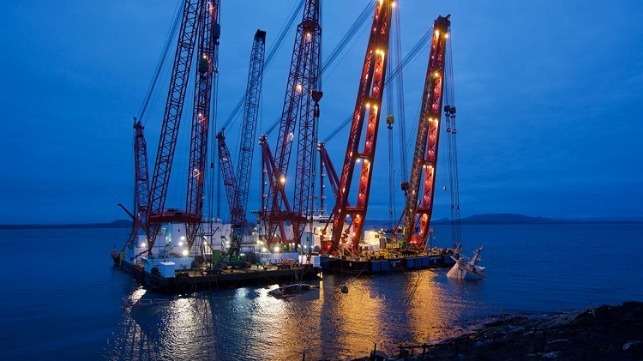 The operation to raise the partially sunken frigate HNoMS Helge Ingstad started early morning on Tuesday 26 February. The operation is estimated to take five to six days.
The frigate was involved in a collision with the oil tanker Sola TS just outside the coast northwest of Bergen in western Norway on November 8, 2018.
The operation to raise the ship out of the water has been complex, and it has been postponed several times due to rough weather conditions. In order to raise the frigate safely, wind and waves must be calm for the duration of the operartion. Maximum wave height must not exceed 0.5 meters.
Two barges have now anchored up next to the frigate. Divers have placed several lifting chains around the hull. Four large hoists on the two barges will now slowly lift the frigate from the seabed.
The frigate will then be raised onto a sub-surface barge, which then will be raised to the surface. On board the barge, HNoMS Helge Ingstad will be shipped to Haakonsvern Naval Base, Bergen. If the operation goes according to plan, the ship may be at Haakonsvern some time during the weekend March 1–3.