Philippines Protests "Maritime Militia" Buildup Off Thitu Island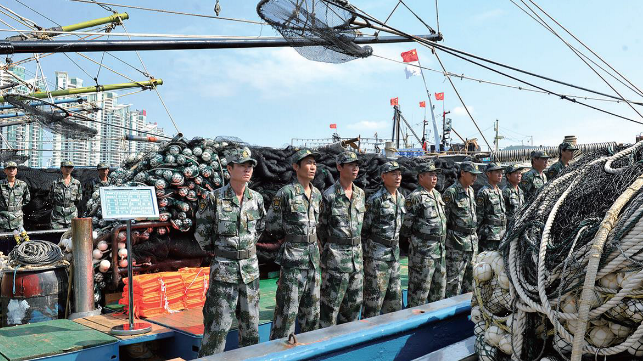 The government of the Philippines has lodged a protest with China's government over the presence of a large number of Chinese vessels off Thitu Island, a disputed island in the South China Sea. According to the Armed Forces of the Philippines, over 600 Chinese vessels have visited the waters near Thitu (also known as Pag-asa) over the past several months, maintaining a presence of up to nearly 90 vessels at a time. The fleet is readily visible in satellite photos.
Under President Rodrigo Duterte, the Philippine government has sought to build closer ties with China, despite tensions over disputed land features in the South China Sea. In statements Monday, Duterte spokesperson Salvador Panelo said that the Philippines had filed a protest through diplomatic channels, but he suggested that there could be a reasonable explanation for the vessels' movements. "When you say circling, it could mean you intend to do something. But if you are stationary, you could just be watching," he told reporters.
China subsidizes and maintains a large "maritime militia" force of civilian fishing vessels. The members of these units receive paramilitary training, including small arms training. "These vessels [at Pag-asa] are considered as Chinese maritime militia that are occasionally complemented by the Chinese Coast Guard to sustain China's assertive presence in the vicinity of the sandbars," said Marine Lt. Col. Elpidio Factor of the AFP's Western Command, speaking to the Philippine Inquirer.
The U.S.-based Asia Maritime Transparency Initiative says that the boats are an example of the Chinese influence tactic known as the "cabbage strategy" - an outer layer of fishing vessels, backed by China Coast Guard law enforcement vessels and PLA Navy warships. In January, AMTI recorded the presence of one PLA Navy frigate and one China Coast Guard cutter near Pag-asa, along with a large flotilla of Chinese fishing vessels.
China's ambassador to the Philippines, Zhao Jianhua, said Monday that his government will look into the matter. "We do not know whether there are militiamen in that area or not but it is clearly [a] disputed area," he told GMA. "We have been handling this issue through friendly and diplomatic channels so you don't have to worry about whether there will be any kind of outbreak of conflict or not."
The Philippine military is currently shipping construction materials to Pag-asa to build out a new boat landing ramp and repair an aircraft runway. China, which has recently reclaimed about 3,200 acres of land for new military bases on disputed islands in the Spratlys, has called on the Philippines to refrain from building new structures in the region.