Panama Canal Sanctions Tug Captains Over Manning Dispute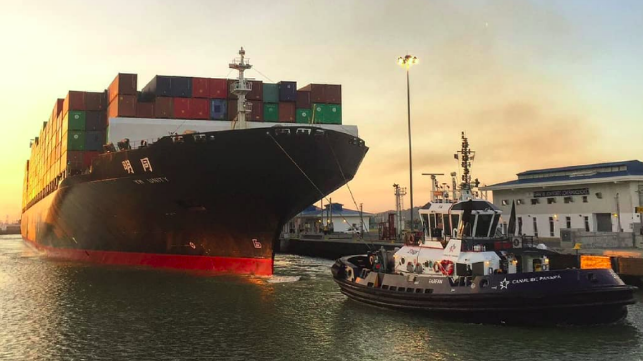 On Friday, the Panama Canal Authority (ACP) announced that it has removed a group of tugboat captains who had refused to escort vessels through the new expanded canal locks. The ACP is still investigating the incident and says that it will consider additional sanctions, up to and including dismissal.
The authority alleged that the captains refused to comply with instructions, preventing normal operations, generating millions in economic losses and damaging the canal's reputation. In contrast, the Union of Tugboat Captains and Deck Officers of the Panama Canal asserted that the tug masters were protesting a personnel shortage created by ACP-initiated cost-cutting measures. The union asserted that an ACP decision "to eliminate a tugboat [crewmember] from the bow endangers the safety of customers, workers and the Canal's own facilities."
"Without an investigation of the facts, the ACP has indicated that it will sanction the captains who, according to the parameters established in the collective agreement and internal regulations, responsibly requested the [presence] of a third seaman to carry out the transit," the union said in a statement. "The ACP has disrespected the due process to which every individual is entitled."
The International Transport Workers' Federation (ITF) also criticized the ACP, alleging that the authority has put cost reductions over safety and turned down opportunities for dialogue with the unions. "The move from the Canal Authorities to reduce the manning on the tugboats and thereby reducing the Canal's costs . . . is too simplistic and only gives a short-term financial gain while the most important element appears to be overlooked or ignored, namely safety of the workers and the safe transit of the vessels," said Nick Bramley, chair of ITF's Inland Navigation Section.
IFT and the Union of Tugboat Captains also raised the matter of a fatal incident aboard the tug Osvaldo de la Espada on Nov. 22, 2017. Both organizations asserted that reduced manning on board means a higher risk of a similar accident recurring.