Ovation of the Seas Delivered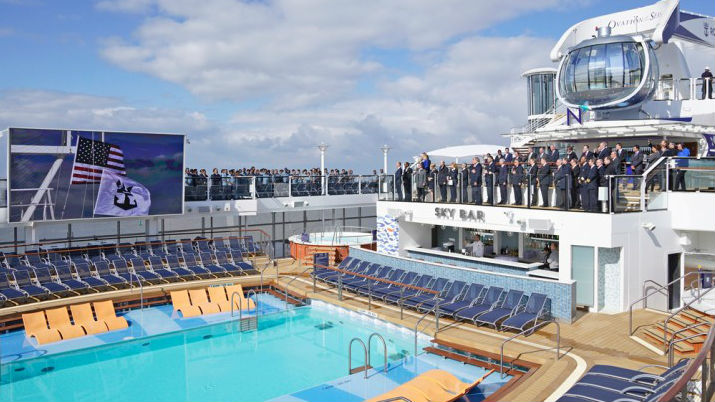 Friday in Bremerhaven, Meyer Werft delivered the 168,660 gross ton cruise ship Ovation of the Seas to cruise operator Royal Caribbean Cruises. Ovation of the Seas is the third Quantum-class ship built at Meyer Werft after sister ships Quantum of the Seas and Anthem of the Seas.
The class sets new standards in terms of eco-friendliness, says Meyer Werft. It features highly energy-efficient systems, optimized hydrodynamics, heat recovery, an effective underwater paint coating, a state-of-the-art exhaust gas treatment plant (hybrid scrubber) as well as energy-saving LED lighting systems.
4,180 guests can be accommodated in 2,090 cabins, and are taken care of by a crew of approximately 1,550. On board of the Quantum-class ships the traditional main restaurant has been replaced by dynamic dining, where the guests rotate in five different restaurants which are included in the cruise rate, and which offer a wide culinary variety. All told, the guests can choose from 18 restaurants on board.
"It's wonderful to welcome Ovation of the Seas to the Royal Caribbean family of ships," said Michael Bayley, President and CEO, Royal Caribbean International. "We have once again introduced yet another one of the most technologically advanced cruise ships and the very first that has been built for the China market – a market we continue to demonstrate our commitment to expanding. Quantum Class has redefined the status quo, and we are excited for our guests in China and Australia to enjoy their extraordinary vacations onboard this stunner."
Ovation of the Seas will now sail to Southampton, U.K., where the ship will offer a series of short getaways before she sets sail on her 52-night "Global Odyssey" culminating in the arrival to her homeport in Tianjin, China. She will begin her first homeport sailing season in China from Tianjin in June 2016. Ovation, together with Quantum of the Seas, Mariner of the Seas, Voyager of the Seas and Legend of the Seas, will make up the largest fleet of any cruise line sailing in China.
The ship will depart from Bremerhaven to Southampton on April 9.
Ovation of the Seas
Dimension: 168,666 gt
Length overall: 347.75m
Moulded breadth: 41.4m
Number of decks: 18
Draught: 8.50m
Engine output: Wärtsilä 2x12V 2x 16V totaling 67,200 kW
Propulsion power: 41,000kW
Speed: 22 knots
Number of passengers: 4,180
Number of passenger cabins: 2,090
Number of outside cabins (including suites): 1,717
Number of inside cabins: 373
Crew: approximately 1,550
Number of theatre seats: 1,281
Number of restaurants: 18
Number of bars/lounges: 12
Total weight of applied paint: approximately 300t
Total length of laid cables: 2,200 km
Total length of laid pipes: 400 km
Flag: Bahamas
Classification: DNVGL