One Dead, Three Missing In Irish Coast Guard Heli Crash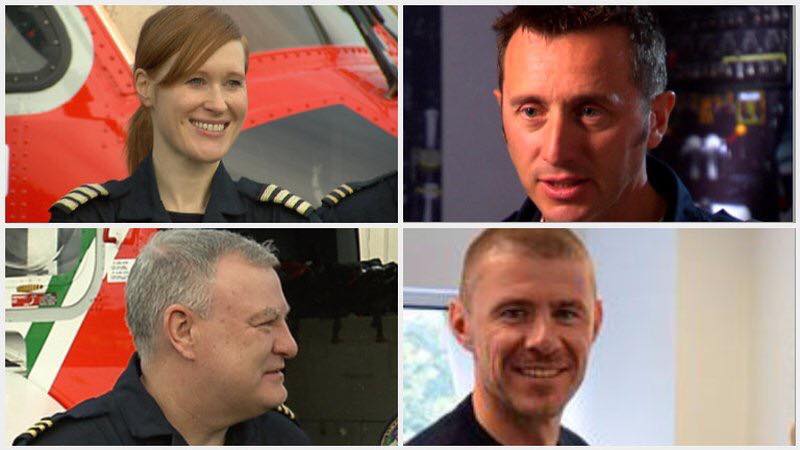 The Irish Coast Guard has mounted a search effort to find the remaining crew of a SAR helicopter that went down yesterday off of Blacksod, on Ireland's Atlantic coast. The pilot, Capt. Dara Fitzpatrick, 45, was rescued by a Royal National Lifeboat Institution crew, but she was in critical condition and was pronounced dead at the hospital. The missing include winchman Ciaran Smith, winchman Paul Ormsby and pilot Mark Duffy.
Early Tuesday morning, the Dublin-based helicopter Rescue 116 was participating in an evacuation operation for a crewmember of a trawler located about 130 nm off the coast. It was tasked with providing backup and communications (or "top cover") for another helicopter that would hoist the fisherman to safety. It headed back to Blacksod to refuel, and it was making an approach in conditions of poor visibility when it suddenly disappeared.
When the helicopter failed to arrive at Blacksod, the Coast Guard, Naval Service and Air Corps launched a search, with additional assistance from local fishing vessels. The air search has since been suspended, but surface operations continue, including a sonar search for the helicopter's fuselage and its "black box" fight data recorder. Conditions are rough on scene, with swells to 15 feet, but the responders have still managed to recover some of the aircraft's wreckage from the surface. On Wednesday, SAR authorities said that they had detected a "chirp" from the black box about 150 feet from Black Rock lighthouse, which is about eight nm west of Blacksod. When conditions allow, Naval service and Garda Water Unit divers will plan for a dive in the area.
The Coast Guard is not optimistic about finding further survivors given the extent of damage to the helicopter's airframe. "Given the size and amount of debris it suggests a totally uncontrolled impact," a source told the Irish Sun. "Which amounts to a catastrophic systems failure onboard. Those helicopters are designed to float."
The helicopter, a relatively new Sikorsky S92, was operated by CHC Helicopters under contract to the Irish Coast Guard. According to Irish Coast Guard SAR manager Gerard O'Flynn, Dara Fitzpatrick was the firm's most senior pilot in Ireland.
"Today is a very sad day for all of the CHC family, but particularly for our team in Ireland. We are devastated by this morning's tragic accident and our hearts are with the crew and the families of the crews involved," the firm said in a statement. "On behalf of everyone at CHC, we would like to extend our gratitude to all of the emergency services and organisations involved in the search, rescue and recovery mission underway, including the CHC team in Ireland as they participate in the search for their colleagues."
Fitzpatrick was the mother of a three-year-old son. In a statement, her family said that "we are so proud of Dara's work and all she has done to save the lives of others over the years. We are completely heartbroken and we pray for the recovery of the other three crew." O'Flynn said that Fitzpatrick had been a popular figure within the rescue community and her loss would be deeply felt.