NYK Agrees to Sell its "Costly" Air Cargo Operation to ANA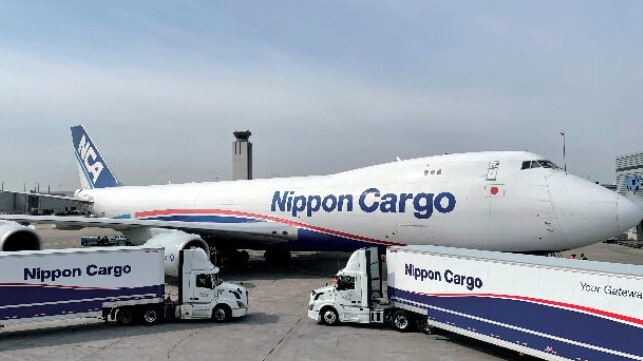 NYK (Nippon Yusen Kabushiki Kaisha) has agreed to sell its air cargo operation which was started more than 40 years ago and remains Japan's only airline dedicated solely to cargo, to ANA Holdings. The sale of the business, which was started in 1978, comes as the major carriers including MSC, Maersk, and CMA CGM, are all working to build branded air cargo operations, a strategy that NYK called into question noting that air cargo is a costly business and requires large capital infusions.
"NYK has been involved in the management of Nippon Cargo Airlines (NCA) as a major shareholder since its establishment, and in 2010, NYK acquired all of the shares of NCA with the aim of becoming a comprehensive logistics company offering ocean, land, and air transportation," they write in the sale announcement. "However, the continuous introduction of new aircraft to expand the operation and maintenance system, and the continuous training of personnel engaged in operation and maintenance required a considerable expenditure. In the highly volatile business environment of airfreight transportation, NCA has been facing challenges in expanding its business scale at a level that is commensurate with such costs."
Reports from Japan indicate that the business has frequently been a money losing division for NYK and also faced maintenance challenges with its aircraft. During the pandemic, the business launched a "never stop logistics" strategy to maintain the operations and support strained supply chains. NCA reportedly had sales of $1.3 billion last year producing a net income of $445 million. This year, however, NCA revenues were down by nearly a quarter in the first nine months of the year while profits were flat versus last year.
NYK reports that it has agreed to sell the shares of its air cargo subsidiary to ANA Holdings, the parent company of Japan's largest airline. No price was reported for the transaction although the Japanese reports set the value of NCA at $73 million.
ANA reportedly expressed strong interest in consolidating the air cargo business with its airline operations. ANA intends to integrate and reorganize the cargo business within the ANA group. The goal is to provide high-quality and internationally competitive air cargo transportation services that can respond to the increasing sophistication of the supply chain.
"We believe that it is the best option to transfer shares of NCA to ANA, which operates the same business, and has been providing NCA with cooperative operations to strengthen its maintenance system," says NYK. They write that consolidation is the best strategy to achieve further growth and increase corporate value from a long-term perspective from the air cargo operations.
The airline reports it currently owns eight Boeing 747-8F aircraft with a total of 15 planes in operation. It has approximately 900 employees that will remain with the company after the transaction closes. ANA and NYK are targeting to close the transaction with regulatory approval by October 1.
Late in 2022, MSC launched its branded air cargo operations after having failed in a bid to become an investor in Italy's ITA Airways. The carrier reported it would be operating four Boeing 777-200F aircraft on an around-the-world service in partnership with Atlas Air, a leading cargo carrier. MSC plans to build out the operations in 2023.
They joined both CMA CGM and Maersk which had previously launched air cargo operations. The French carrier started its air cargo in 2021. Maersk announced its plan in the spring of 2022, reporting it would have five aircraft – two new B777F and three leased B767-300 cargo aircraft – building the operations by 2024.