Next Destination for Iran's Warships: Antarctica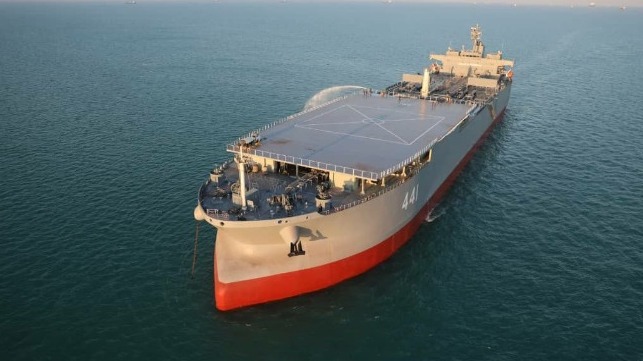 The Iranian Navy is considering deploying a flotilla of warships to the Antarctic in the near future, according to state-owned Tasnim News. The outlet reports that this was the motivation for the routing of a recent Iranian circumnavigation voyage, which diverted from the Panama Canal to take the long, southerly route through the Strait of Magellan.
In September, Iran dispatched the destroyer IRIS Dena and the converted Aframax tanker IRIS Makran on an eastbound voyage. The vessels returned to Bandar Abbas safely on Saturday after a round-the-world mission covering 34,000 nm, breaking the sailing distance record for an Iranian task force.
The voyage plan appeared to change mid-course with little fanfare. In January, as the Dena and Makran crossed the Pacific, the Iranian Navy advertised its intentions to sail through the Panama Canal, putting the task force on track to arrive in Brazil on January 23.
"We have been present in all the strategic straits of the world and we have not been present in only two straits, in one of which we will be present this year and we are planning to be present in the Panama Canal," top Iranian Navy officer Commodore Shahram Irani told Fars News at the time.
This was widely covered in U.S. media, as the presence of Iranian assets in the region is unusual. A symbolic Iranian transit was not amenable to the Biden administration, and the U.S. listed both ships as sanctioned property in advance of their arrival at the Pacific side of the canal's locks.
Panama announced that it would grant Iran permission for a canal transit on February 7, in accordance with the treaty governing the use of the waterway. However, still facing U.S. sanctions, Dena and Makran avoided the canal, diverting about 4,000 nautical miles south to take the Strait of Magellan instead. After another 2,200 nm voyage north up the coast of Argentina, the two ships arrived at Rio de Janeiro on February 27, one month behind schedule.