New Ships Destined for Cruise Hotspots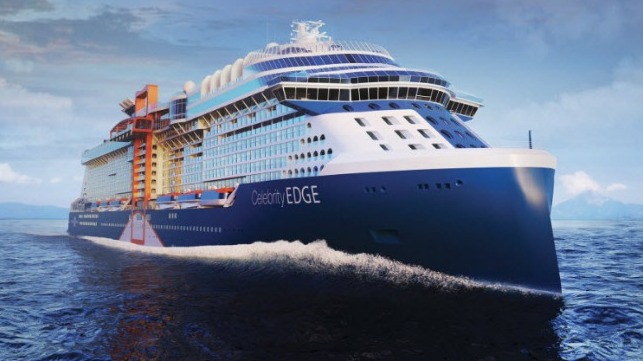 The latest travel trends survey from Travel Leaders Group reveals that the Caribbean remains the top international destination for U.S. travelers, followed by European river cruises and then Mediterranean cruises. As the global cruise fleet continues to grow, so to do the options, globally.
Celebrity Cruises officially took delivery of Celebrity Edge from the Chantiers de l'Atlantique shipyard in Saint-Nazaire, France this week. The 2,900-passenger vessel is the first of four vessels from Celebrity Cruises' Edge Class. On November 6, Celebrity Edge will begin her transatlantic voyage to her home port at T25 at Port Everglades in Fort Lauderdale, Florida. Her inaugural season will be spent sailing alternating seven-night eastern and western Caribbean cruise itineraries, with her Maiden Western Caribbean voyage departing on December 9, 2018, and her Maiden Eastern Caribbean voyage departing on December 16, 2018. Then, in spring of 2019, Celebrity Edge crosses the Atlantic again to the Mediterranean with a range of seven- to 11-night sailings visiting iconic cities, including Barcelona and Rome.
The Travel Leaders Group survey found that active and adventure travel, along with culinary and wine-focused journeys, are currently among the most popular specialty travel choices. Tapping into the active market is Virgin Voyages, and this week the line ordered a fourth ship from Fincantieri. This means that Virgin will have four consecutive years of ship debuts starting in 2020. The new vessel will be a sister to the others, with Scarlet Lady the first in the series. She will be 110,00 gross tons, 278 meters long and accommodate 2,770 passengers.
Last week, KfW IPEX-Bank and Commerzbank announced financing for Hapag-Lloyd Cruises' third expedition ship. The Polar Class 6 vessel will sail the polar regions along with other destinations such as South America. She will have a length of 139 meters and accommodate up to 230 passengers and 175 crew members.
Hurtigruten also ordered a new expedition ship last week, from Norway's Kleven Verft. This will be the line's third hybrid powered expedition cruise ship, and her design is based on Hurtigruten's MS Roald Amundsen and MS Fridtjof Nansen, currently under construction at the yard. She will have a high ice class, be able to accommodate 530 guests and is expected to be delivered in 2021. With a growing fleet of 17 custom built expedition ships, Hurtigruten explores destinations including Antarctica, South America, Norway, Svalbard, Greenland, Northwest Passage and other Arctic destinations.
Meanwhile, One Ocean Expeditions has recommissioned its newest vessel, RCGS Resolute, destined for sailings to remote and pristine destinations including Central and South America and the North Atlantic Islands. The line already sails vessels to Canada's East Coast, the Canadian High Arctic and Antarctica. RCGS Resolute's inaugural voyage will be to Antarctica.
More than two-thirds of professional travel agents participating in the Travel Leaders Group survey say consumers are spending more per trip in 2019 versus the current year. According to Ninan Chacko, Travel Leaders Group CEO: "The cruise industry excels at providing an exceptional experience and level of convenience that keeps repeat cruisers coming back year after year and entices the new-to-cruise with amazing new ships and less traditional options such as river and expedition cruising that are continually driving increased interest."