New Port Underway for World's Northernmost Mining Project
Works have begun on a new Russian port on the Novaya Zemlya archipelago to service the world's northernmost mining operation - the Pavlovskoye project.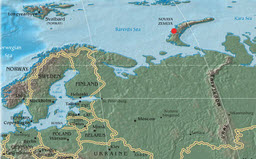 The port, to be built in Bezymyannaya Bay, will be owned by Rosatom, and the Pavlovskoye project to develop lead and zinc deposits on Novaya Zemlya is being run by the First Mining Company JSC, which is part of Uranium Holding ARMZ.
Construction is due to start in 2020, and operations are expected to commence in 2023.
The Pavlovsky field is one of the largest deposits in Russia. Its reserves are estimated at 47.7 million tons of ore (2.49 million tons of zinc, 549,000 tons of lead and 1,194 tons of silver). First Mining Company JSC plans to build a mining enterprise with a capacity of up to 3.5 million tons of ore per year.
Engineering surveys for the design of the main underwater part of the port complex were carried out in July 2018. The port will include a universal pier, a breakwaters and a complex of buildings - warehouses, repair shops and administrative buildings. Future port workers will live in a shift camp located 20 kilometers (12 miles) away.