New Jersey Blocks Offshore Drilling
New Jersey Governor Phil Murphy has signed bipartisan legislation that bans offshore oil and gas exploration and its production in the state's waters last Friday. The bill, A-839, also prohibits the Department of Environmental Protection from issuing any permits and approvals for the development of any facility or infrastructure related to offshore drilling within or outside of New Jersey waters.
In addition, the bill requires the Department of Environmental Protection to review any proposed oil or natural gas development in the Atlantic region of the U.S. exclusive economic zone to determine if the proposal can reasonably be expected to affect New Jersey waters.
New Jersey does not technically have any control over drilling in federal waters, but the state does have jurisdiction over three nautical miles extending off the coast. By banning drilling in those waters, the state has effectively blocked the construction of any supporting infrastructure such as pipelines or terminals.
"Offshore drilling would be a disaster for our environment, our economy, and our coastal communities," said Murphy. "The bipartisan legislation I am signing into law, on the eighth anniversary of the Deepwater Horizon Spill, will block oil companies from drilling in state waters. We simply cannot allow the danger of drilling off our coast. The societal, economic and environmental costs would be detrimental to the overall quality of life for our residents."
Last year, President Donald Trump signed Executive Order 13795 to encourage oil and natural gas production off the Atlantic coast. However, Murphy says opening the Atlantic Ocean for offshore drilling would cause catastrophic and lasting economic harm to the state's 130-mile shoreline, which supports a tourism industry worth $44 billion annually and attracts millions of visitors each year. It also would put New Jersey's beaches, fisheries, and marine life along the coast at risk.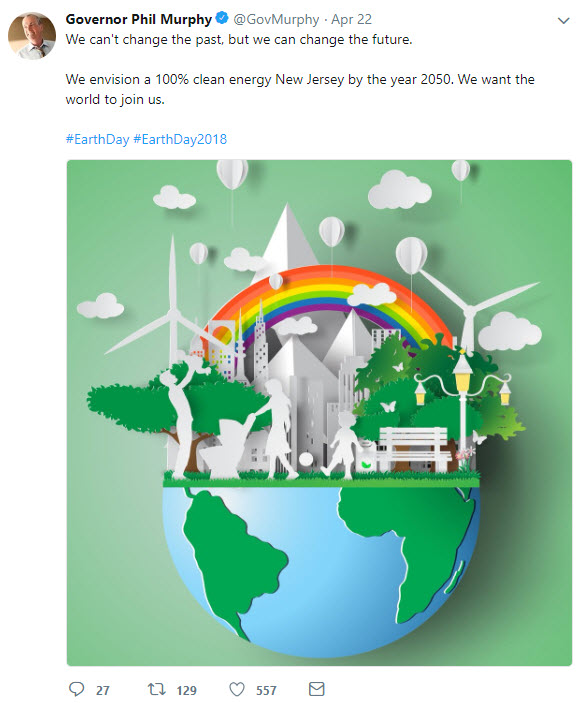 "We cannot allow President Trump's anti-environmental and pro-polluter agenda to hijack our economy or our environment," said Ed Potosnak, Executive Director of the New Jersey League of Conservation Voters.
The legislation received a 37-0 vote in the Senate and a 72-1 vote in the Assembly. Bill sponsors include: Senators Jeff Van Drew and Troy Singleton as well as Assembly Members R. Bruce Land, Bob Andrzejczak, Vincent Mazzeo and Nicholas Chiaravalloti.
At least 15 governors of coastal states have publicly opposed the administration's plans for offshore drilling. In January, Governor Rick Scott secured a commitment to remove Florida from future consideration for offshore drilling. Other states including California, New York, South Carolina and Rhode Island have introduced similar bills. Rhode Island's governor called for an all-out effort to oppose Trump's plan for offshore drilling along the Eastern seaboard.