New Forces to Guard Northern Sea Route
Russia has established two new Arctic defense forces to boost security along the Northern Sea Route.
The new forces will be involved in anti-assault, anti-sabotage and anti-aircraft defense and will come under the leadership of the navy's Northern Fleet. News agency Izvestia states that the aim is to guarantee security in the passage and along adjacent coasts.
One of the forces is likely to be stationed in the Kola Peninsula along with the Russian Arctic Brigade, near Norway and Finland, local media reports. The other is likely to be based in Russia's east.
"This is part of the important work on the integrated development of the Arctic zone along the Northern Sea Route, an area which today includes more than 70 major sites and ports," General Mayor Yevgeny Nikiforov told Izvestia.
Figures from the Russian Association of Sea Ports show that cargo handling volumes in Russia's northern ports grew by over 40 percent in 2016. Murmansk experienced the largest growth (50 percent), and the oil terminal at Varandey also experienced significant growth.

Colonel (Retired) Viktor Litovkin, now a TASS military expert, is reported as saying he believes it's possible the new forces will use all-terrain vehicles in summer and snowmobiles in winter or light multi-purpose armored vehicles equipped with heavy machine guns, grenade launchers and flamethrowers. Short-range air defense missile systems could be deployed on snowmobiles or on stationary platforms.
"The goal is to cover the Bering Strait with their destructive potential so that foreign combat ships with air defense systems and long-range cruise missiles do not move westward along the strait," said Litovkin in TASS.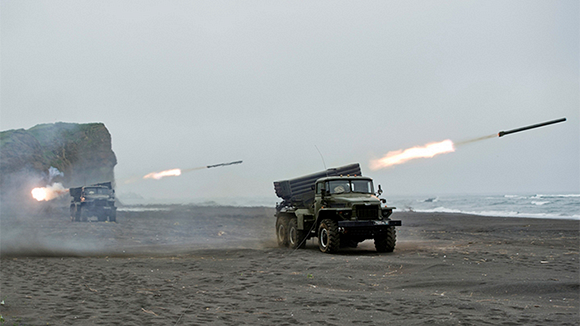 In the past two years, Russia has opened six military bases in the Arctic. Late last year, Russia's Northern Fleet began operations at the nation's northernmost military base - in the New Siberian Islands. More Arctic bases are expected to be operational soon.
Russia is currently building several nuclear-powered icebreakers. The lead ship, Arktika, was launched last year. During the winter, the ice along the Northern Sea Route varies in thickness from 1.2 to 2.0 meters (3.9 to 6.5 feet). The ice in central parts of the Arctic Ocean is on average 2.5 meters (8.2 feet) thick. Arktika-class icebreakers can force through this ice at speeds up to 10 knots.
The nation is now said to be designing a super-icebreaker capable of navigating through ice four to five meters (16 feet) thick.