Navy to Transport USS Fitzgerald by Heavy Lift Ship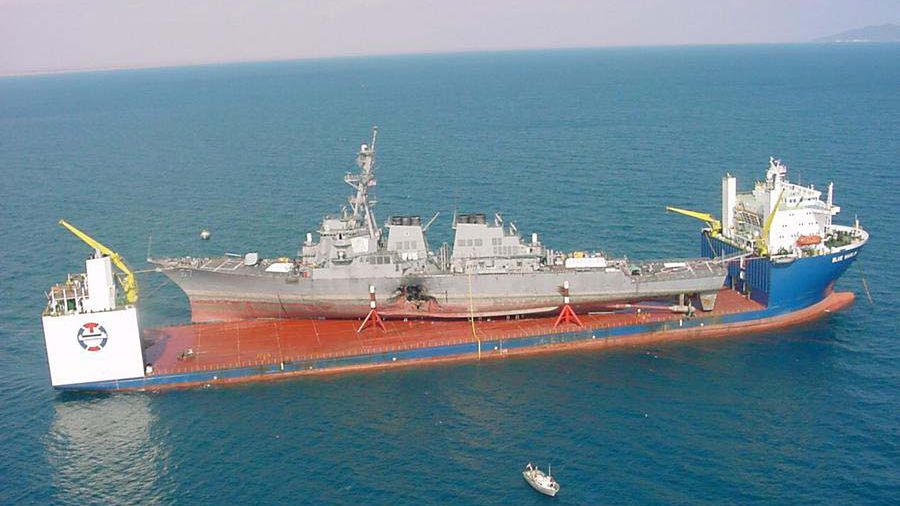 On Tuesday, the U.S. Navy said that it has decided to transport the damaged destroyer USS Fitzgerald back to the United States aboard a heavy lift ship. A spokesman for Seventh Fleet told Reuters that the move could happen as soon as September; the shipyard for the repairs has not yet been named publicly. The Navy's contract solicitation for a commercial flo/flo semisubmersible vessel is available here.
The Fitzgerald collided with the container ship ACX Crystal on June 17 off Yokohama, leading to a massive hull breach and the deaths of seven sailors. She suffered a hole measuring 12 by 17 feet below the waterline, in addition to damage to her superstructure, her comms equipment and her radar. The total cost of repairs has not yet been released, but it is likely to exceed the $250 million that the Navy paid to repair the destroyer USS Cole after she was struck by a suicide bomber in 2000.
Multiple investigations are ongoing, but Navy officials have quietly indicated that the Fitzgerald's watch probably lost situational awareness. "They did nothing until the last second," one official said. "A slew of things went wrong." Another Navy official said the crash "will wind up being our fault." Officially, the Navy has emphasized that the investigations are not yet complete, and that it is "premature to speculate on causation or any other issues."
The ACX Crystal's master, Capt. Ronald Advincula, asserted that his vessel had attempted to signal the Fitzgerald prior to the collision by means of flashing light. He claimed that Fitzgerald was on a crossing course and did not take evasive action.