Namibia Plans Massive Port Expansion to Prepare for Energy Exports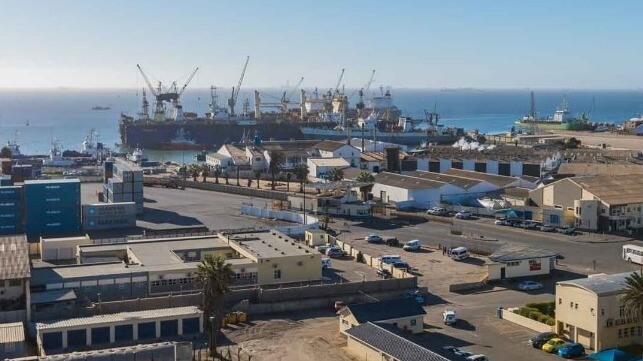 In its ongoing push for port expansion, Namibia has announced plans for new berths and quay walls to support the country's booming energy industry. In an interview with Bloomberg last week, Namibian Ports Authority (Namport) CEO Andrew Kanime said a private investment of $2.1 billion is needed for the proposed port infrastructure expansion.
"We are hoping to commence with the operation in the last quarter of next year which will take about three years at most," said Kanime.
The expansion is targeted at the country's major port of Walvis Bay. It also includes building a port in the coastal town of Lüderitz. The port will be located 250 nautical miles south of the Port of Walvis Bay. Besides complementing Walvis Bay, Lüderitz is expected to provide market access for the mineral rich Northern Cape region of South Africa.
Notably, this project marks an important shift as Namport seeks to adopt the landlord port model. According to Kanime, Namport will provide land for development and then invite private companies to establish operations.
The Namibian government has been forced to play catch-up, especially in expanding ports handling capacity, after Shell and Total Energies announced major oil and gas discoveries in the Orange Basin, off the country's Atlantic coast.
The oil finds are estimated to hold approximately seven billion barrels of oil equivalent and if exploited fully, Namibia is poised to become Africa's fifth largest oil producer by 2030.
However, this recently unearthed energy potential presents a challenge for Namibia, which currently is a net fuel importer. With Namibia aspiring to become a new global fuel and energy exporter, it means a total overhaul of its energy supply chain, including ports.
Meanwhile, Namibia has also made ambitious plans to become a global export leader in green hydrogen. In June, the Namibian government approved a Feasibility and Implementation Agreement (FIA) with green hydrogen energy supplier Hyphen Hydrogen Energy to develop, build and operate the largest green hydrogen project in Sub-Saharan Africa. It will be located in the Namib Desert and expected to cost $10 billion.
In readiness of this project, Namport has set aside 350 hectares of land at the Port of Walvis Bay for allocation to green hydrogen related industries.
In addition, Namport in 2021 signed a Memorandum of Understanding with the Port of Rotterdam. The objective was to develop a supply chain plan to facilitate green hydrogen exports from Namibia to Rotterdam.
The Port of Rotterdam anticipates a demand of twenty million tons of hydrogen per annum to pass through its port's industrial complex by 2050.