Maud Returns to Norway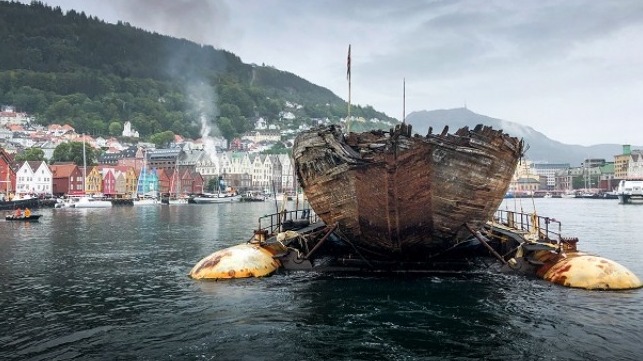 Maud, the ship that Norwegian explorer Roald Amundsen tried to reach the North Pole with, returned to Norway on Monday after nearly a century.
The vessel arrived in Bergen, where she spent two days back in July 1918 on her way to the high Arctic.
Maud was raised from the seabed in Cambridge Bay, Canada, over the summer of 2016 by the Maud Returns Home project.
Named for Queen Maud of Norway, she was built for Amundsen's second expedition to the Arctic and launched in June 1916. In the summer of 1918, Amundsen departed Norway. His ambition was to sail into the high north and deliberately get stuck in the ice so the ship could function as a floating scientific research station as she drifted across the North Pole. Maud spent several years in the Arctic ice without reaching the North Pole.
After two winters and three summers in the Northeast Passage, the Maud expedition arrived at Nome, Alaska, in July 1920. A new attempt to sail further north from the Bering Strait resulted in yet another wintering in the ice without the Maud having reached far enough north into the east-west current. She returned to Seattle in August 1921 where Amundsen left the expedition.
The Maud expedition continued for three more years under the command of Oscar Wisting, still without reaching the current across the Arctic Ocean. When they again arrived at Nome in August 1925, they were met by creditors whom Amundsen was unable to pay. Wisting managed to get the ship away, but when they arrived in Seattle in October 1925 the ship was again seized by creditors. Maud was sold to Hudson Bay Company and ended up as a floating warehouse and a wireless radio station. She sank on her mooring in 1931.
Jan Wangaard, who led the Maud Returns Home project, said: "It brings joy to our hearts to see Maud, still proud after all these years, see her old homeland once again."
Amundsen's other polar vessels Gjoa and Fram are on display at the Norwegian Maritime Museum in Oslo. Wangaard hopes Maud will be displayed a new museum at Vollen, the port where she was built.
Maud will now be towed along the Norwegian coast and is expected to arrive in Vollen on August 18.