Marshall Unveils Robotic Drone System for Offshore Wind Inspections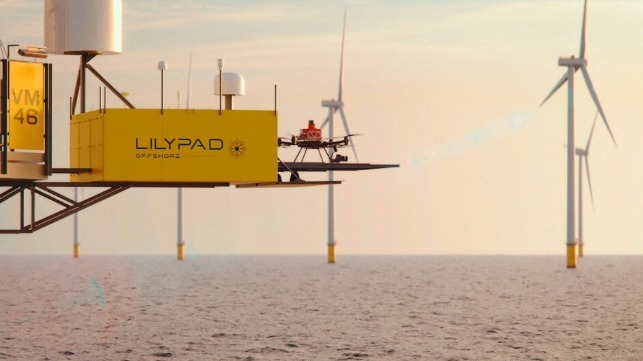 As more countries increasingly exploit offshore wind energy, the demand for new technologies to inspect and maintain wind turbines is going to skyrocket. To solve this challenge, Marshall Futureworx, the venture building and advanced technologies arm of Cambridge-based Marshall Group, has unveiled a "resident robotic ecosystem" to provide offshore wind farm inspection services.
The ground-breaking new system, dubbed Lilypad, is an ecosystem of multiple autonomous over-the-horizon UAVs (Unmanned Aerial Vehicles), which utilize artificial intelligence and navigational sensors. This revolutionizes the way operators are able to monitor real-time performance of their wind farms.
The UAVs are deployed from dedicated offshore charging stations and monitored by a single remote pilot stationed in an onshore command and control center. Vital inspection data and reports are then transmitted back to the wind operators, enabling faster and predictive maintenance scheduling.
According to Marshall Futureworx, Lilypad reduces the requirement for offshore personnel undertaking inspections, minimizing both cost and impact to the environment. At the same time, the higher frequency of revisits and the improved intelligence operators gain through Lilypad's remote inspections will enable an offshore wind farm operator to increase wind turbine uptime.
As a UK based company, Marshall Futureworx hopes Lilypad will gain traction from the country's booming offshore wind market. The UK has the world's second largest installed offshore wind capacity at around 12 GW. It forms a key component of the UK government's net zero strategy, including its ambitious target to achieve 50GW offshore wind installed capacity by 2030 and potentially more than 100 GW by 2050.
"The ever increasing demand for secure and renewable energy to power our communities has resulted in the surging need for innovative solutions to enable the installation and support of offshore wind infrastructure, right from initial construction and through the life of projects," said Kieren Paterson, the Managing Director of Marshall Futureworx.
The Lilypad's announcement follows the signing of a memorandum of understanding in 2022 between Futureworx and ISS Aerospace, who offer industrial UAVs and leading AI drone guidance and control software.