Malaysia Detains Chinese Grab Dredger for War Grave Desecration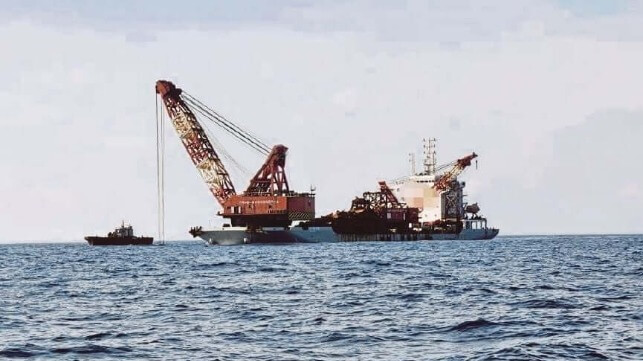 A Chinese grab dredger notorious for vandalizing warship graveyards has been detained by Malaysian authorities after reports that the ship was dredging up pieces of the WWII warships HMS Prince of Wales and HMS Repulse. The two warships were bombed and sunk by aircraft of the Imperial Japanese Navy in 1941, leading to the loss of 842 men. It remains one of the worst disasters in British naval history.
The dredger Chuan Hong 68 was spotted last week at the wreck site, and a patrol boat from the Malaysian Maritime Enforcement Agency (MMEA) transited out to inspect it on Monday. The MMEA employed the local practice of detaining the ship for unpermitted anchoring. In this case, more than anchoring was at stake: On board, the inspectors found rusting artillery shells and other scrap on the ship. The shells appeared to be similar to other unexploded ordnance discovered at a scrap yard in Tanjung Belungkor on May 19, where a barge associated with the Chuan Hong 68's operation had been spotted.
The Chuan Hong's connection with wreck site robbing is under investigation. The penalty for the crewmembers could be as much as two years in prison if convicted, according to the New Straits Times.
Professional diver Hazz Zain first flagged the illicit commercial operation for the authorities earlier this month, drawing on information from local fisherment. Videos and pictures circulating on social media appeared to confirm their account.
"We are distressed and concerned at the apparent vandalism for personal profit of HMS Prince of Wales and HMS Repulse. They are designated war graves. We are upset at the loss of naval heritage and the impact this has on the understanding of our Royal Navy history," said Professor Dominic Tweddle, National Museum of the Royal Navy Director General.
Chuan Hong 68 had returned to the warship graveyard after a six-year lull. The Chinese grab dredger had gained notoriety over 2015-2018 for vandalizing sunken warships. In 2017, the dredger was responsible for illegally scavenging the wrecks of the pre-WWII Japanese destroyer Sagiri, plus the passenger vessels Hiyoshi Maru and Katori Maru, the steamship Igara and the tanker Seven Skies.
"What we need is a management strategy for the underwater naval heritage so that we can better protect or commemorate these ships. That may include targeted retrieval of objects," said Tweddle.