Maersk Shanghai: Container Containing Acid Yet to be Found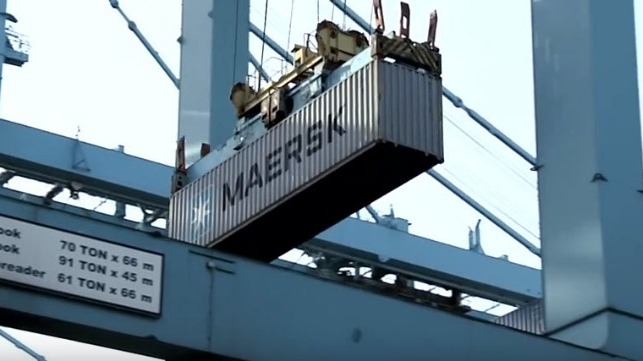 The U.S. Coast Guard, NOAA and Environmental Protection Agency are continuing to monitor 76 shipping containers lost from a container ship off North Carolina, but are yet to locate one containing 5,900 pounds of sulfuric acid.
On March 4, the Maersk Shanghai alerted watchstanders that during stormy conditions they lost about 70 containers about 17 miles off Oregon Inlet, North Carolina. Maersk later confirmed the total number of containers lost overboard was 76 as well as their contents.
Coast Guard Air Station Elizabeth City crews, Coast Guard Auxiliary aircraft crews and aircraft crews contracted by the shipping company have conducted multiple overflights, locating nine containers on the surface. At present, only two of the nine sighted containers remain floating.
The Coast Guard has designated the floating containers as hazards to navigation and salvors have placed tracking devices and lights on them. Maersk plans to use side-scan sonar to locate the submerged containers to determine their risk to safe navigation and environmental impact. Weather and sea conditions will determine how quickly they are able to effectively survey the area.
The Post-Panamax container ship was underway from Norfolk to Charleston when the incident occurred. She is employed on Maersk Line's TP11 service linking East Asia and the U.S. East Coast.
Following the incident, she sailed to Charleston and was inspected at anchor offshore. She then sailed for Freeport, Bahamas, where salvage of the containers on board will take place.