Maersk Honam Arrives Off Jebel Ali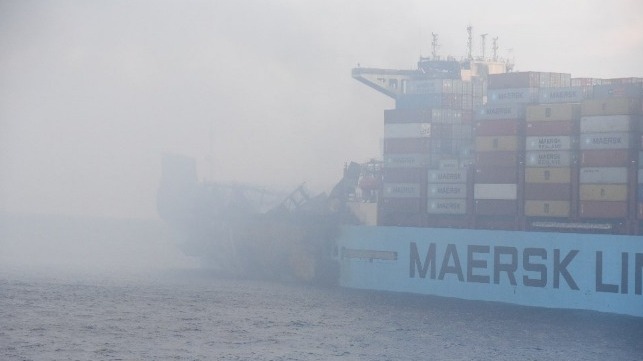 The damaged container ship Maersk Honam has arrived at an anchorage off Jebel Ali, UAE. When salvors have put out the last hotspots from the fire in her forward holds, she will dock for offloading, inspection and repairs.
In a statement, Maersk Line said that it expects at least another month of salvage work before the Honam can begin to discharge the surviving cargo. "During anchorage, hot spots in affected areas will be completely extinguished and further work to stabilise the vessel and bring it alongside will be carried out," the carrier said. "Maersk Line expects this work to take 4-5 weeks, whereafter Maersk Honam will be moved alongside for discharge operations to commence."
Salvage tugs have been slowly towing the Honam towards the UAE for more than a month. After talks with multiple ports in the region, including Salalah, Oman, Maersk secured access to Jebel Ali as a port of refuge for the stricken boxship. However, the Honam's voyage was delayed by a long diversion for continued firefighting operations.
The full extent of the damage to the vessel and her cargo will be established once the containers are discharged and inspected. Maersk Line has declared general average for the Maersk Honam, meaning that shippers' insurers will have to post GA and salvage security bonds before their cargo is released. Despite the intensity and persistence of the fire, shippers may well be able to recover their cargo, depending upon its stowage location. Boxes aft of the accommodations block should be in sound condition, 2M partner MSC said in a customer advisory.
On March 6, as the Maersk Honam was under way off the coast of Oman, a fire broke out in a cargo hold forward of the wheelhouse. Five crewmembers died as a result of the blaze and an unspecified number were injured.
The 15,000 TEU Honam was carrying about 8,000 containers at the time of the fire, including an unspecified quantity of dangerous goods. Maersk has said that all cargo on board was stowed in accordance with the IMDG code and that an investigation will determine the cause of the blaze. The Indian Coast Guard has described it as a chemical fire.