Maersk: Cyberattack Cost up to $300 Million
Leading container carrier Maersk Line posted a profit of nearly $340 million for the second quarter, a significant improvement over the $150 million loss in the same period last year.
Profitability was boosted by a 20 percent increase in revenue, created in large part by an equivalent increase in average per-TEU freight rates. Volume was up only slightly, increasing about 1.7 percent year on year.
The result included only a part of the estimated $200-300 million loss related to the "Petya" cyberattack on Maersk Line and APM Terminals in late June. In a webcast on Wednesday, Maersk Group CEO Soren Skou said that the attack cut liftings for Maersk Line by about 20 percent in the first half of July. Volumes have recovered, though, and customers have stayed with Maersk, Skou emphasized.
Despite the effects of the attack, Maersk Line has not changed its full-year guidance for underlying profit – a reflection of its expectations for improving freight rates and volumes.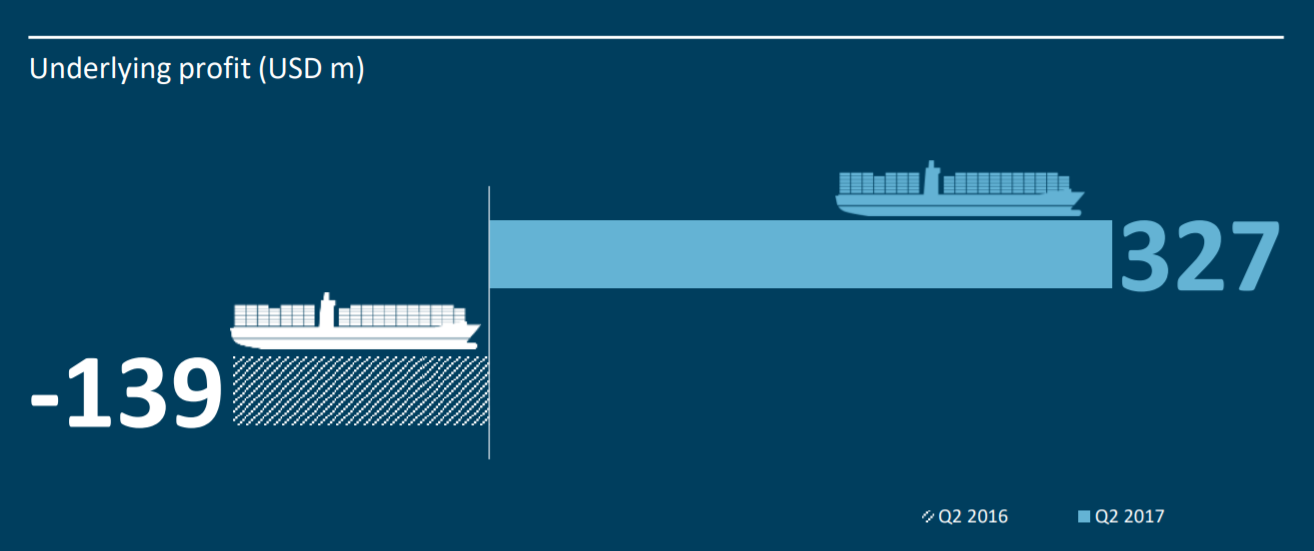 Maersk
Performance at Maersk Line was strong, but Maersk Group as a whole posted a loss of $260 million in the second quarter, weighed down by poor results at Maersk Tankers. Maersk's oil transport business was hit by one-time impairments of over $460 million related to lower asset valuations of its ships, and suffered additional losses due to declining spot market rates. In addition, APM Terminals posted a loss of $100 million due to impairments and to the loss of customers in a few terminals.