Maersk: Canada's Trade Growth to Beat U.S.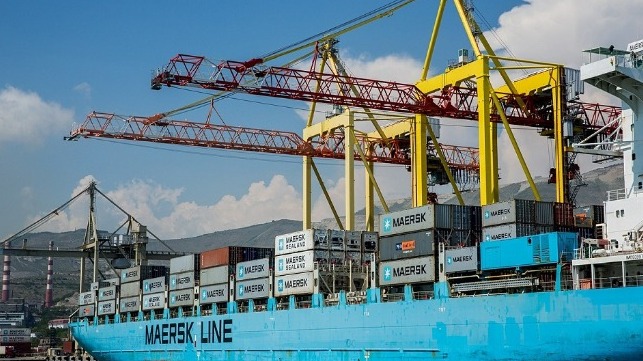 Maersk Line's latest North America Trade Report, released last week, predicts that Canada's imports and exports will grow by seven percent in 2018, higher than that of the U.S. which the company predicts will grow by up to four percent.
Canada is expected to benefit from its first full year of free trade with the European Union after securing the Comprehensive Economic and Trade Agreement (CETA) at the end of last September. Added to that, Canada is moving closer to signing the Comprehensive and Progressive Agreement for Trans-Pacific Partnership (CPTPP) involving 11 nations - Australia, Brunei Darussalam, Canada, Chile, Japan, Malaysia, Mexico, New Zealand, Peru, Singapore and Vietnam - accounting for 15.8 percent of the world's GDP. The CPTPP accord involves eliminating more than 98 percent of tariff s across the 11 countries.
"The CPTPP will boost trade further, this time on the Pacific, adding to CETA's positive impact on the Atlantic," says Jack Mahoney, President for Maersk Line Canada. "We can expect gains to come through the West coast ports of Vancouver and Prince Rupert, the latter offering the shortest distance between North America and Asia. They are both growing as competitive gateways for West Coast North America volumes."
Both the U.S. and Canada will benefit from an expected increase of more than three percent in global trade volumes this year. However, the U.S. and Canada, which have grown at similar accumulative rates of 8.7 percent and 8.3 percent from 2015 to 2017, have two very different tales to tell this year, says Maersk Line. For the U.S., gains will come from retail, chemicals, consumer electronics and grains sectors but the nation faces a number of homegrown issues as the import-to-export North America Trade Report gap continues to widen. The U.S. is facing a trucking crisis, terminal congestion and bunker fuel rises. Rail infrastructure needs to be updated, terminal competitiveness lags behind other countries and digital transformation is putting pressure on the way the U.S. does trade.
"The U.S. and Canada are growing, and yet they are in two very distinct moments. The U.S. is in digital disruption and transformation, putting pressure on the way the nation trades, so much so that the end-goal must change so that booking a container and moving it across continents becomes as easy as posting a parcel, helping U.S. business flourish locally and globally," says Omar Shamsie, President for Maersk Line North America.
"It sounds far-fetched when you consider how the industry does business now, but the future of the whole supply chain needs to be discussed at the highest levels. U.S. competitiveness needs to come under a magnifying glass so the whole industry and authorities can address new ways of narrowing the ever increasing gap with imports and update itself in the face of digital disruption and increasing competition from Asia, Latin America and Europe."
Parent company A.P. Moller-Maersk unveiled a joint venture with IBM earlier this year to create an industry-wide paperless platform that is aimed at speeding up trade transactions, boosting transparency for clients and ultimately saving billions of dollars.
In 2017, U.S. total maritime container imports and exports grew 4.7 percent, up from 3.9 percent in 2016, while Canadian total imports and exports expanded 6.9 percent, up from 1.4 percent in 2016. The U.S. accounts for 24 percent of all global container trade, which moves more than $4 trillion worth of goods a year. Maersk Line moves approximately one in five containers around the world.
Canadian Trade
Canadian imports enjoyed their strongest performance of the year in the fourth quarter in the lead up to Black Friday and Christmas. In 2017, retail enjoyed one of its best annual performances in decades supported by strong auto sales as well. This comes as Canada is expected to take more business away from the U.S. West Coast in 2018. For example, Prince Rupert benefits from a geographical advantage of being closer to Asia as well as providing more competitive and efficient services than its neighbors further south.
Breaking down Canadian exports by seven trade routes, volumes to the Pacific slightly increased 0.3 percent and 0.3 percent in the third and fourth quarters of 2017, while Oceania (Australia and New Zealand) was up 3.5 percent by the fourth quarter. Volumes to the Middle East, India and Pakistan jumped 21 percent in the second quarter before showing a modest three percent growth in the third and a decline of 16 percent in the fourth. Europe continued positively throughout the year, with a high of 11.9 percent in the second quarter and rounding out the fourth quarter with 5.1 percent growth.
U.S. Trade
Imports underpinned overall U.S. trade growth in 2017 thanks to healthy consumer demand. Imports grew 6.8 percent in 2017 versus 4.1 percent growth in 2016. Maersk Line forecasts that imports will grow from a minimum of three percent up to five percent in 2018 thanks to factors such as higher wages, lower unemployment and slightly higher GDP growth this year.
"While we saw some of the strongest import performances from countries like India, Germany, China, Vietnam and Turkey in 2017, the results underscore that the U.S. is ultimately a net importer with a growing trade imbalance. For every two containers that are imported into the country approximately one is exporter. However, on the west coast this ratio is closer to three to one. Legislative, commercial and investment initiatives are necessary to boost exports to create a better weighted trade balance," said Christian Pedersen Head of Trade and Marketing for Maersk Line North America.
U.S. total exports grew one percent in 2017 versus a 3.1 percent expansion in 2016. Exports last year were impacted by China's decision to crack down on pollutants as well as suspending import licenses of recyclable goods and banning some materials to reduce pollution. This decision impacted the West Coast exports trade the most, as wastepaper exports dropped 14 percent to 164,906 TEUs in 2017.
"The Chinese government's decision impacted U.S. as well as Mexican exports in the fourth quarter, but countries such as India as well as other Southeast Asian nations have the capacity to pick up at least some of the trade," says Pedersen.
For Maersk Line, U.S. exports are expected to show moderate growth between zero percent to two percent in 2018. The better performance is largely owed to expectations that resin exports will increase out of the Gulf Coast this year as companies like Chevron Phillips Chemical bring plants online and have announced investments at the $20 billion mark.