Longshore Union Calls for East Coast Port Shutdown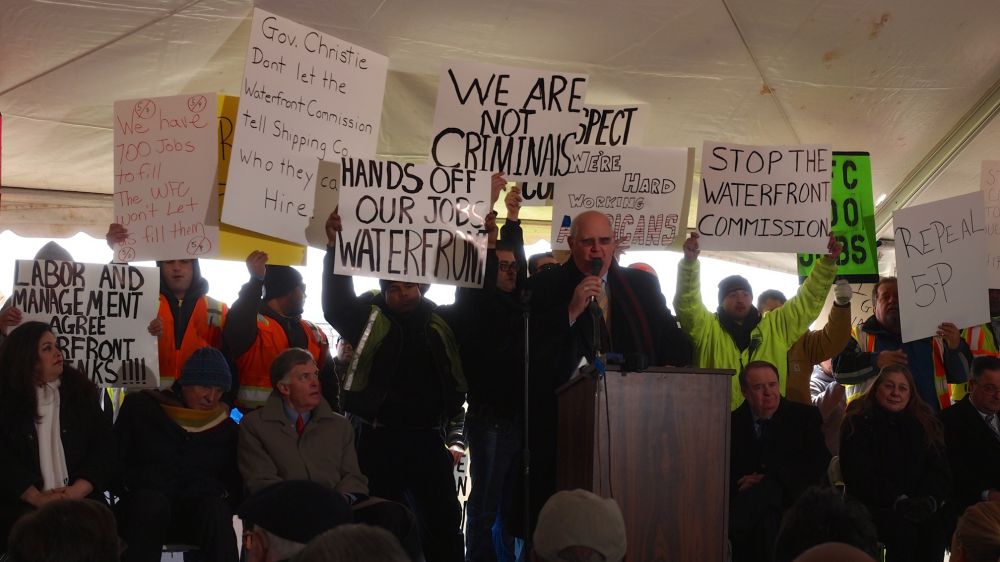 The International Longshoremen's Association (ILA) is calling for a shutdown at ports along the eastern seaboard and Gulf Coast to protest hiring practices that allegedly reduce the number of dockworkers. The union said that dates for a labor action would be announced next week, and singled out the South Carolina Port Authority and the Waterfront Commission of New York Harbor for policies that allegedly lead to "job loss and economic injury."
The Waterfront Commission was created in 1953 to fight corruption and organized crime at the Port of New York and New Jersey (PNYNJ). To further this goal, it is authorized by Congress to conduct criminal background checks and ensure non-discrimination in hiring. In August, the ILA (and other plaintiffs) lost a case against the Waterfront Commission that claimed that the regulator's attempts to prevent racial discrimination were beyond the bounds of its authority and were an impediment to port operations. The federal Third Circuit Court of Appeals ruled against the union, affirming that the Waterfront Commission "was within its statutory authority to require shipping companies and other employers to certify that prospective employees had been referred for employment pursuant to federal and state non-discrimination policies."
In its statement Tuesday, the ILA reiterated its belief that "the commission's self-created system of background checks for all that work . . . is resulting in job shortages throughout the [port] and damaging the U.S. economy."
In South Carolina, the ILA is protesting the use of non-union labors to operate cranes, receive and deliver cargo and perform terminal work. According to Kenneth Riley, ILA Vice President and President of ILA Local 1422, this policy causes "unemployment, unskilled and unsafe dock labor, and injury to the coastal economy."
"We will wake up the decision makers and force them to focus on our ports," said Riley. "If we don't stop the destruction caused by overreaching bureaucracies, America will pay an even bigger price."
On Thursday, the National Retail Federation called on the U.S. Maritime Alliance and the International Longshoremen's Association to work together to avoid the shutdown. "Thousands of companies and millions of workers rely on these ports and any disruption to their activity . . . could have a negative impact on the U.S. economy," said NRF vice president Jon Gold. "While the union might have concerns with certain local government actions, engaging in a coastwide shutdown is not the answer."