Live Export: New CEO Serious About Animal Welfare
The Australian Livestock Exporters' Council's incoming Chief Executive Officer Simon Westaway aims to clarify and advance animal welfare issues in the industry.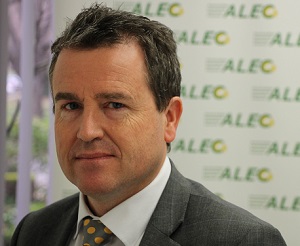 "The overall strength and size of Australia's livestock export sector, as well as our strategic alignment with supply chain partners both here and overseas, means it is absolutely critical that we speak with one voice and articulate our story very clearly," Westaway said.

"We are a strong, professional and highly integrated industry," he says. "While the economic and ethical imperatives of our industry are very compelling, perhaps our greatest threat is a lack of awareness about how the livestock export industry actually works, including the world-leading animal welfare, control and traceability standards built in to our market systems."
Chairman of the Australian Livestock Exporters' Council (ALEC) and former politician, Simon Crean, said: "The live trade continues to be the subject of close scrutiny, and questions continue to be asked about our commitment to transparency and improvement in animal welfare.
"While we are very proud of Australia's role in a sophisticated and professional global livestock supply chain, we acknowledge the system is not perfect. That's why we are determined to be transparent in addressing the concerns of all stakeholders, finding common ground in solutions which support an ethical and economically viable live trade."
Crean said that under Westaway's leadership, ALEC will continue to support and implement changes across the livestock export industry to better address community concerns about the welfare of livestock in the supply chain.
In recent years, Australia's livestock export trade has undergone change of a global scale and significance. The impact of shock footage of traditional slaughter practices in Indonesia released in 2011 on the Australian public, transformed the industry almost overnight. Subsequently, a new regulatory regime was introduced – the Exporter Supply Chain Assurance System (ESCAS).
Under ESCAS exporters must ensure livestock traceability throughout the entire supply chain. This ensures that livestock remain within an approved supply chain, says ALEC, and provides assurance that the subsequent handling and slaughter is accordance with international animal welfare recommendations.
The health and welfare of livestock along the supply chain is of critical importance to exporters, says ALEC. Not only do healthy and well cared for animals deliver a better return to exporters and producers, it is also crucial to the sustainability of the industry. Australia's livestock export industry invests significantly in research and development, training, education and infrastructure across the supply chain to improve animal welfare outcomes. This includes addressing livestock 'leakage' from approved supply chains, which remains the largest threat to the industry.
Vessels that carry cattle are dedicated ships that have been specially built or modified to transport livestock. All vessels must comply with Marine Order Part 43 requirements and hold an Australian Certificate for the Carriage of Livestock (ACCL) issued by the Australian Maritime Safety Authority.
Australia is the only livestock exporting nation which regulates animal welfare standards throughout the entire supply chain, right through to the point of slaughter in overseas markets. Of more than one hundred countries exporting livestock around the world, Australia is also the only country investing in delivering animal welfare skills to people working in offshore livestock supply chains.
However, as images of animal cruelty continue to be strongly associated with the livestock export trade and where poor to appalling treatment of livestock is identified, the trade has faced disruptions, market bans and increased regulatory and political intervention.
An infographic about the transport of animals is available here.