Live Export: More Footage, More Science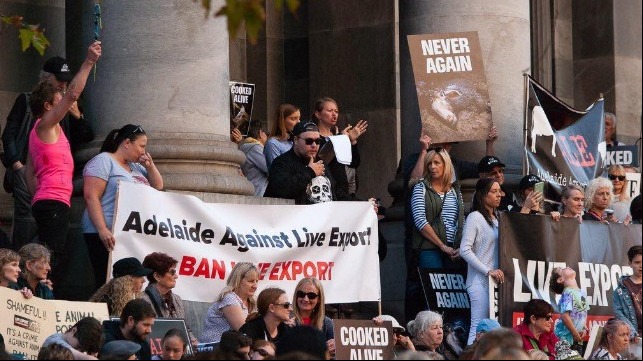 The question of how accurately sheep are counted as they are loaded on to livestock carriers has become a topic of discussion across Australia after whistle-blower footage from on board the Panama-flagged Awassi Express was aired on 60 Minutes last month. Now, more footage: "Boiled Alive," deemed so confronting and horrific that commercial television would not show it, has been aired by Fairfax Media.
Stocking density has an impact on animal welfare - the ability for sheep to rest and to reach food and water - and an impact on their ability to survive heat stress. More heat from more metabolisms, packed together, adds to the heat experienced by each animal.
The Australian Standards for the Export of Livestock (ASEL) lay out requirements for the allocation of space on board: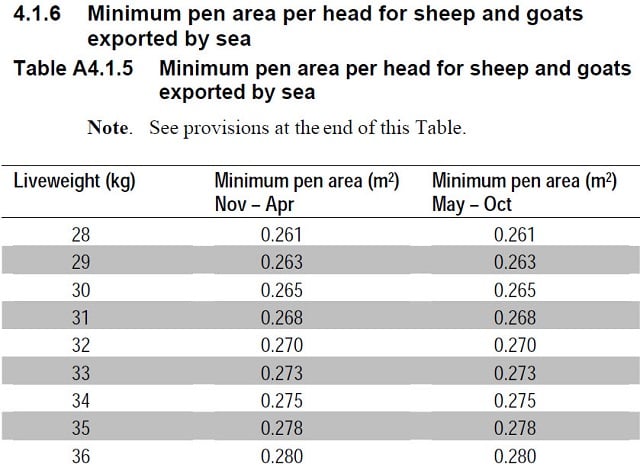 The list goes on, up to 90 kilograms and with special provisions such as extra space allowance for horned animals.
Around 2,400 sheep died on the Awassi Express on a voyage to the Middle East last year, over two percent of the livestock carried, making it a notifiable event. Typically, in the past, after a high-mortality voyage the Department of Agriculture has required the exporter's next voyage to have stocking densities reduced by 10 percent. After the 60 Minutes program, various organizations have proposed that stocking densities should be reduced further: 17.5 or 50 percent - or indeed that the trade should be stopped during the Middle East summer or altogether.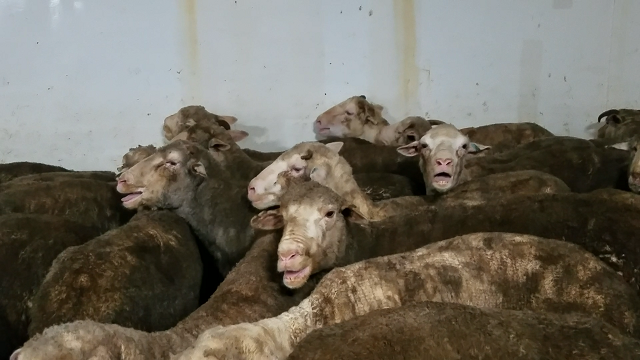 The government has called for an inquiry so that science rather than emotion forms the basis for any potential action in response to public outcry over the Awassi Express footage. The results are expected in a few weeks, and the Australian Veterinary Association has now made its science-based submission which includes the following recommendations:
• Trucks delivering sheep for export must be weighed dockside at embarkation, so total sheep weight can be allocated to total deck area. No more sheep should be loaded onto the ship when total space has been allocated.
• Aggregated voyage data, including key animal welfare indicators, can and must be measured and collated using up-to-date technologies such as blockchain, with that data made available to scientists so future research topics are not only based on sheep mortalities, but also causes of morbidity during each voyage. Sheep must be individually identified with electronic ear tags to assist with data collection and for traceability.
• Space allocation per animal must be based on allometric principles and increased by at least 30 percent for sheep that weigh 40 to 60 kilograms. The typical sheep sent to the Middle East is an adult Merino wether in this weight range. This increase in space is the minimum amount needed to alleviate adverse welfare outcomes and must be implemented across all body weights and all months of the year.
• Irrespective of stocking density, thermoregulatory physiology indicates that sheep on live export voyages to the Middle East during May to October will remain susceptible to heat stress and die due to the expected extreme climatic conditions during this time. Accordingly, voyages carrying live sheep to the Middle East during May to October cannot be recommended.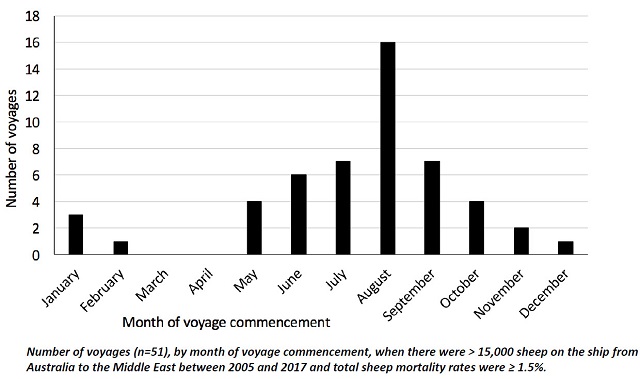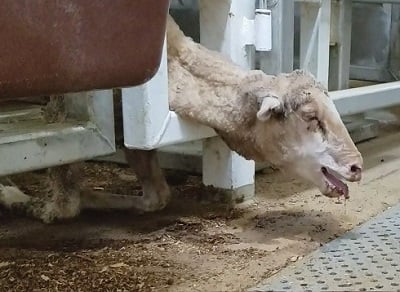 The Australian Veterinary Association report notes cumulative stress over an extended period including transportation and loading stresses, high-stocking densities, exposure to loud noise, human handling, changes in day length and light intensity and a different climatic zone.
How many sheep does it take to die of heat stress? One, says veterinarian Dr. Sue Foster of Vets Against Live Export. No amount of space is going to save sheep when the temperatures are simply above their physiological coping limits. They would die even if there were only one sheep in each pen on board.
For the people of Adelaide Against Live Export, who rallied against the trade again on Sunday, that's one too many.
Excerpt from the Australian Veterinary Association submission:
Export of live sheep to the Middle East from Australia first began in the 1960s, with mass-scale shipments of up to 125,000 sheep commencing by the mid-1970s. The first standards, which covered pen design and ventilation, were set by the Commonwealth Department of Shipping and Transport's Livestock Advisory Committee. In the 1960s these were expanded to cover stocking densities and feed and water allowances. In 1997, the livestock export industry developed its own standards which formed part of the industry's self-regulated Livestock Export Accreditation Program (LEAP).
However, following the MV Cormo Express disaster in 2003 where nearly 6,000 sheep died, the Keniry Livestock Export Review recommended that the Federal Government should regulate the live animal export industry through an "Australian Code for the Export of Livestock". In response, in 2004 the LEAP standards were modified to form version 1 of the Australian Standards for the Export of Livestock (ASEL).
Compliance with the ASEL is a condition of an export license, administered by the Australian Government Department of Agriculture and Water Resources (DAWR). Prior to loading on to the vessel, the Australian Animal Welfare Standards and Guidelines for (a) sheep and (b) for land transport also apply, where these have been regulated under state animal welfare legislation (this has not yet occurred in Western Australia).
Since 2004, the ASEL have been subject to minor modifications, most recently in 2011. In 2013, a substantive review was undertaken and a new version of ASEL was drafted but was not progressed due to a lack of consensus on its contents and a change of government prior to its scheduled release for public consultation.