Lauritzen and Cargill Expand Methanol-Fueled Bulker Orders from Japan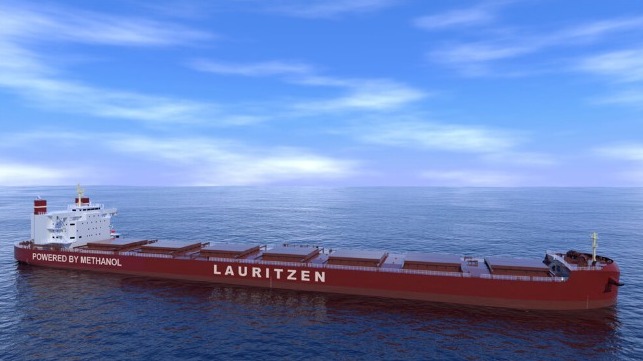 The ranks of the emerging category of methanol-fueled shipping are continuing to grow with Denmark's J. Lauritzen reporting it is ordering at least two large bulkers that will be capable of trading with zero carbon emissions when powered by green methanol and biodiesel. The vessels will be among the first bulkers in the world to adopt methanol which is rapidly growing to become one of the dominant alternative fuels rivaling liquified natural gas which had dominated the category for the past few years.
J. Lauritzen which maintains a large bulker operation that carried over 21 million tons of cargo in 2021, reports it has signed a letter of intent for 81,200 dwt Kamsarmax bulk carriers, which will be built by Tsuneishi Shipbuilding in Japan. The company says that a minimum of two methanol dual-fuel vessels will be built with their introduction expected in 2024 and 2025. Tsuneishi reported last week that it was also entering into an agreement with Mitsui & Co. for two methanol dual-fueled bulkers due in late 2025 and 2026.
The vessels will all be operated by Cargill with J. Lauritzen reporting it has a minimum of seven year agreement with Cargill. The food commodities giant has previously discussed its plans to accelerate the decarbonization of its fleet of bulkers. They have also discussed the adoption of wind-assisted propulsion as part of their broader plans.
"We are very happy with this transaction, as it is important for J. Lauritzen and Lauritzen Bulkers to participate actively in the decarbonization of the shipping industry, and we are proud to be able to do so in a visionary partnership with Cargill, who are sharing our ambition to truly drive change in our industry," says Kristian Morch, CEO of J. Lauritzen.
Lauritzen reports that it is launching a new company, Lauritzen NexGen Shipping, which will own the new vessels. The new company will be jointly owned by J. Lauritzen and Lauritzen Bulkers and will use as a platform for further investments in zero carbon emission and future-proof assets for the shipping industry.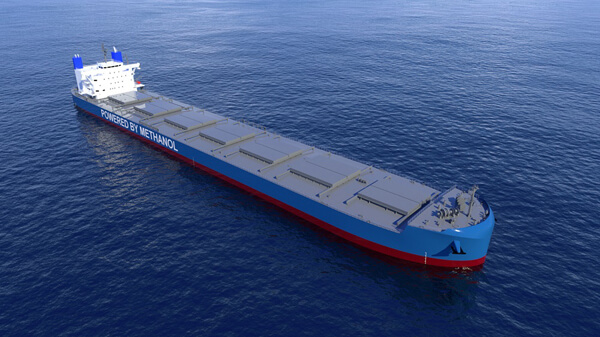 Tsuneishi's rendering shows the streamlining shape at the bow (Tsuneishi Shipbuilding)
Tsuneishi highlights that it will be adapting its popular Kamsarmax design which has been a best seller with over 350 vessels delivered. To maintain the large cargo capacity for the vessels, they plan to place a large methanol fuel tank on the stern. The propulsion plant design calls for a dual-fuel ship that can use methanol or traditional fuel and by sizing the tank they will be able to maintain an ample cruising distance. The design also incorporates Tsuneishi's Aeroline proprietary technology that reduces wind resistance by approximately 20 percent. They achieve this by streamlining the bow and accommodation block. The design concepts which have been used on other vessels will be applied for the first time to the Kamsarmax bulker.
While the overall methanol order book continues to grow quickly, according to DNV's Alternative Fuels Insight data bulkers are just beginning no adopt methanol. Of the 80 vessels that DNV calculates are currently on order and due by 2028 for methanol-fueled operation, only three were bulkers. The containership category has been the fastest to adopt methanol dual-fuel designs following product tankers that introduced methanol. Other segments such as cruise ships are also quickly adopting methanol as part of their new ship orders.