Largest American-Made Container Ship Christened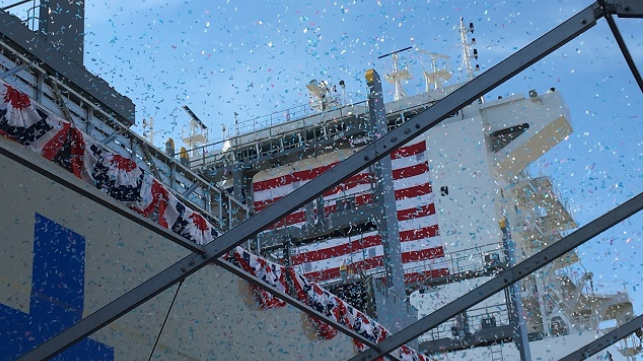 The largest container ship ever built in the U.S. was christened in a ceremony at the Philly Shipyard on Saturday, June 30.
Built for Honolulu-based Matson, the new vessel is named Daniel K. Inouye in honor of Hawaii's late senior U.S. Senator who was a longstanding supporter of the U.S. maritime industry and its important role in supporting Hawaii's economy. She is the first of two new ships being built for Matson by Philly Shipyard at a total cost of approximately $418 million for the pair, and the first of four new vessels that Matson will put into its Hawaii service during the next two years.
The 51,400 tons vessel is 850-foot long and has capacity for 3,600 TEUs. She will be Matson's fastest vessel, with a top speed of nearly 24 knots, helping ensure on-time deliveries in Hawaii from Matson's three West Coast terminals in Seattle, Oakland and Long Beach.
Matson's first Aloha Class container ship, Daniel K. Inouye incorporates the latest environmentally friendly technology, including dual fuel engines that can be adapted to use LNG, double hull fuel tanks, fresh water ballast systems and a more fuel efficient hull design.
Speaking at the event, Maritime Administrator Mark H. Buzby, said: "At a time when the U.S. maritime industry is fighting to keep its place among international competitors, this event was a momentous occasion. Built for the Hawaii trade, the Inouye represents the blending of the most advanced technologies with proven American shipbuilding skills and was constructed, fittingly, in Philadelphia. Philadelphia has a 300-year legacy as a major center of maritime industrial commerce and serves as a vital economic engine for the entire region, including South Jersey, which is where I hail from.
"Once merely an early colonial port settlement, Philadelphia was transformed by the maritime industry into one of the nation's largest cities boasting a formidable complex of shipping companies, terminals, port facilities and private and public shipyards. In that founding generation, American-built and American-crewed ships meant freedom, independence and economic and military successes for a young nation. That meaning has not changed to this day."
Philadelphia's growth and success continues with a number of important infrastructure upgrades, expansions and modernization projects. The Port of Philadelphia is implementing a phased $300 million infrastructure improvement plan to strengthen its wharf, add new cranes and upgrade and enlarge its terminal and warehouses.
"America has a proud maritime history, but it has never been just about ships and ports," said Buzby. "To me it's more about the American mariner; the men and women who have advanced the American way of life by serving at sea, and the men and women of the U.S. Merchant Marine. They are always among the first called to action to support and sustain our armed forces in national and international crises. Those same mariners will breathe life into this new ship and sail her confidently and competently for years to come.
"In 2018, the U.S. maritime industry faces many challenges, but this stunning Aloha Class container ship, built at home in the Philly Shipyard by American workers, is a big part of the solution. We need more ships like the Inouye, and there's another new 3,600 TEU container ship currently under contract to be built. All told, the Inouye is a boon to American economic health and security. In the arc of our nation's maritime history, it is a shining moment worth celebrating. Aloha!"