Kumiai Continues Expansion Ordering 11 Multi-Purpose Ships from CSSC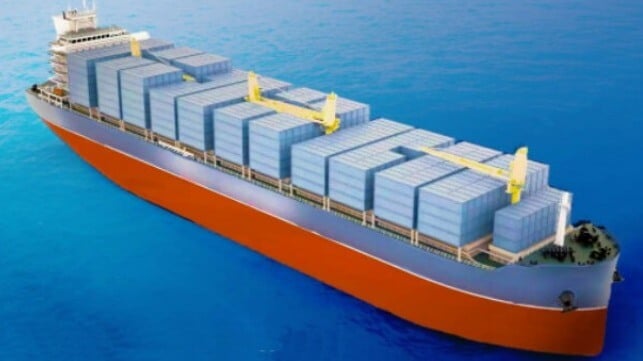 China State Shipbuilding Corporation (CSSC) received a second large order last week, this one coming from Japan's Kumiai Senpaku, at the same time as they were signing the record containership order with France's CMA CGM group. After a slow start with newbuild orders at the start of 2023, China's industry received nearly 40 percent of the orders in March again putting it into first place in the shipbuilding sector. CSSC looks to continue the expansion of its orderbook.
Japan's Kumiai is moving aggressively with its orders with the latest deal being for 11 vessels from CSSC's Chengxi Shipbuilding and coming quickly after an order of VLGCs at Japan's Kawasaki Shipbuilding. The 50-year-old Japanese shipping company with its independently operated subsidiary Kumiai Navigation in Singapore is looking to grow operations, which include bulkers, LPG carriers, asphalt tankers, Ro-Ro passenger vessels, and currently a single product tanker and one molten sulfur carrier.
The order signed on April 7 consists of 10 multi-purpose ships which CSSC is calling the largest tonnage ships of their kind. They will be 84,500 dwt with a design that will be adaptable to high-efficiency loading for pulp, containers, new energy vehicles, and other goods. The ships will be highly energy efficient which according to the shipyard will permit them to be 50 percent below the EEDI Phase III baseline. They will have a high-pressure SCR system and a desulfurization tower.
Due to the flexibility of design, the vessels will be well-suited to Kumiai's focus on charter vessel operations. The order was placed in connection with CITIC Financial Leasing which will finance the vessel construction. No construction timeline or delivery dates were announced.
CSSC Chengxi highlights that it previously built four 62,000 tons multi-purpose ships, which were also the largest of their kind. They were delivered in 2021 and 2022.
Kumiai also ordered a single asphalt carrier. It will be a 17,000 ton vessel, that will measure approximately 525 feet. It will be outfitted with three independent liquid cargo tanks, and each tank will have four cargo holds to meet the requirements of most asphalt terminals around the world. They anticipate that this vessel will sail on routes from the Middle East to Asia and Africa.
CSSC highlights that due to the size of this order, the Chengxi Shipbuilding Company has already exceeded its target for 2023 newbuild orders. CSSC's goal is to leverage the yard's experience to expand its capabilities.
This order also expands the Japanese group's continued growth. At the end of March, Kumiai also ordered an 86,700 cbm combined liquefied petroleum gas (LPG) - liquefied ammonia gas (NH3) carrier powered by LPG fuel to be built by Kawasaki Heavy Industries. It will be the third combination LPG/NH3 carrier for Kumiai Navigation and is due for delivery in 2026. Kumiai was already scheduled to take delivery of two gas carriers in February and April 2025 from Kawasaki. Both of those vessels will operate under five-year charters to European companies.
Kumiai Navigation is also due to take delivery this year on a 64,000 dwt bulker newbuild from Japan's Oshima Shipbuilding. The Ultramax bulker was ordered at the beginning of 2021.