Korean Firm "Finds" Wrecked Warship and Trove of Gold
Another firm has laid claim to the discovery of the Dmitrii Donskoi, a Russian warship from the Age of Sail that was scuttled in the Sea of Japan in 1905. The new claimant, a South Korean company called Shinil Group, says that the wreck contains 200 tons of gold in bars and coins - an amount that would offer a commodity value of $8 billion at today's spot prices.
However, Shinil put the valuation much higher, at $130 billion, and it asserted that it is the first organization to ever locate the ship (and the only one with salvage rights). The government-funded Korea Institute of Ocean Science and Technology (KIOST) claims to have located the ship in 2003, and another private enterprise asserted that it located the wreck in 2001.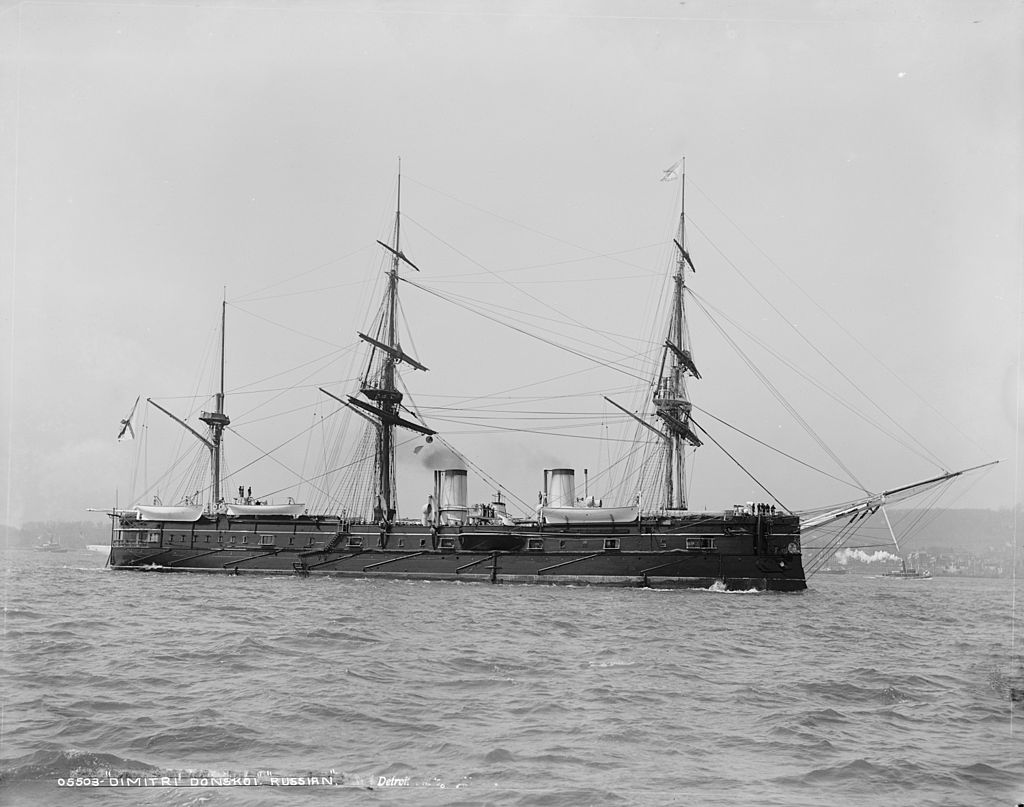 The Donskoii at the Columbian Exposition, 1893 (file image)
The armored cruiser Donskoi was built for the Imperial Russian Navy in the 1880s, and she featured the best naval technology of her day - an iron hull, a central gun battery amidships, coal-fired boilers and supplementary sail power. She was present for the Battle of Tsushima in May 1905, the historic engagement in the Sea of Japan that effectively ended the Russo-Japanese War. Unlike most of the Russian fleet, the Donskoi escaped the initial fight without significant harm, but Japanese warships caught up with her the day after and inflicted serious damage. Her commanding officer brought her near to Ulleungdo Island in the hopes of saving the remaining crew, and he ordered his men to scuttle her and abandon ship. The survivors made it to shore, where they were taken prisoner by a Japanese landing party.
A South Korean construction company, Dong-Ah Construction, claimed to have found the wreck of the Donskoii in the early 2000s. Its stock price soared at the announcement, but it went bankrupt shortly thereafter.
"Dong-Ah Construction made similar claims over the same ship but failed to deliver on its promises and went bankrupt, causing huge losses for investors," a Korean financial regulatory official told The Guardian, cautioning investors to be wary. Chosun Daily also raised questions about Shinil Group's provenance, noting that it was only incorporated as a company two months ago.
Kirill Kolesnichenko, an associate professor and military historian at Far Eastern Federal University in Vladivostok, questioned whether the Donskoi would have carried such a large amount of gold at the time of her sinking. He also raised a potential legal problem for any salvage effort: In comments to RIA Novosti, Prof. Kolesnichenko said that the vessel is a Russian war grave, since it contains the remains of Russian sailors, and any major work at the site would require Moscow's consent.