Kenya Seeks Deep-Pocketed Partners for Port Privatization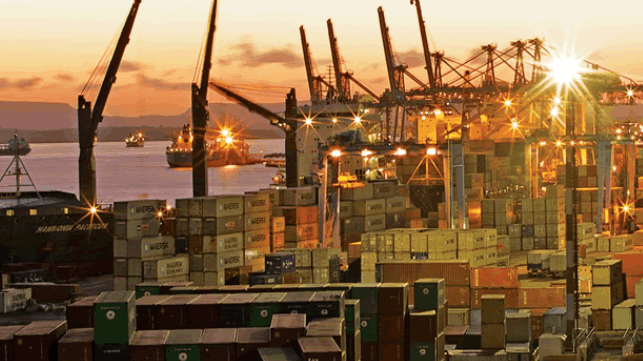 Kenya hopes to attract international companies to take over the management and operations of its two main seaports and a critical logistics special economic zone in order to improve the efficiency and competitiveness of the facilities.
In what is shaping up as the biggest privatization endeavor in the East Africa nation's history, the Kenya Ports Authority (KPA) has put out tenders seeking for global companies to partner with Kenyan firms and take over the running of Lamu port, sections of Mombasa port and the Lamu Special Economic Zone (SEZ).
The tenders are the clearest indication that the current administration of President William Ruto is determined to privatize port operations, an issue that has remained divisive and has often generated controversies. Similar attempts in the past have been shelved not only due to opposition by politicians and dock workers but also due to allegations of corruption and irregularities.
Only last year, global ports operator DP World was caught in a ports privatization controversy after politicians alleged the company had secretly penned a deal with the previous administration to take over the operations, development, redevelopment and management of all key strategic ports in the country.
Over the years, KPA has generally used the public service model, giving it ownership and control of virtually all the port assets. However, in line with its Ports Master Plan 2018 - 2047, which recommends gradual transit into a landlord port model, the authority is changing to include the private sector in the ports operations.
Effectively, KPA wants to bring on board experienced private companies with deep pockets to take over the management and operations of Lamu Port's container terminal berth 1-3, Mombasa port's berth 11-14 and Mombasa port container terminal 1. Also needed are private investors to pump resources into the development of the Lamu SEZ.
"KPA invites sealed bids from eligible tenderers for qualification of bidders for the development and operation of port assets through private public partnership," said Capt William Ruto, KPA Managing Director.
Owing to the high stakes and delicate process, KPA has set tough conditions for interested bidders. To start with, any global entity interested in taking over any of the assets must form a joint venture with a Kenyan company, with the local firm controlling not less than 15 percent of the total share of the project company.
The bid conditions favor giant companies, and only a handful would qualify. Bidders must have throughput of at least 10 million TEU in the last three years; minimum annual revenue of $1 billion; 10 years of experience; at least five terminals operated in Africa, Latin America and Southeast Asia; and at least two new greenfield port projects in the last 10 years.
KPA hopes that the port privatization process will support $10 billion in economic activity.
For Lamu port, which has largely remained as laggard since it was commissioned in May 2021 and which KPA admits has not been optimally utilized, the authority envisages a landlord concession model in which a private investor will be fully responsible for the handling of the terminal for a period of 25 years. The operator will pay KPA agreed fixed and variable fees.
The same model will apply for the Mombasa port container terminal 1, which comprises existing berths 16, 17, 18 and 19 and is a specialized terminal for handling containers. The private investor will take full control for the facility over a 25-year concession period and pay KPA fixed and valuable fees.
For Mombasa port berth 11 – 14, the authority is opting for a design build finance operate maintain (DBFOM) structure to upgrade the terminal up to international standards. Developed in 1967 and operating as a multi-purpose berth, the facility requires strengthening, straightening and deepening.
In the case of Lamu Port, KPA wants private investors to take over the development of the special economic zone located just west of the port, which is being touted as ideal for warehousing and light industrial activities.